8 Delicious Recipes That Make The Most Of Your HexClad Pans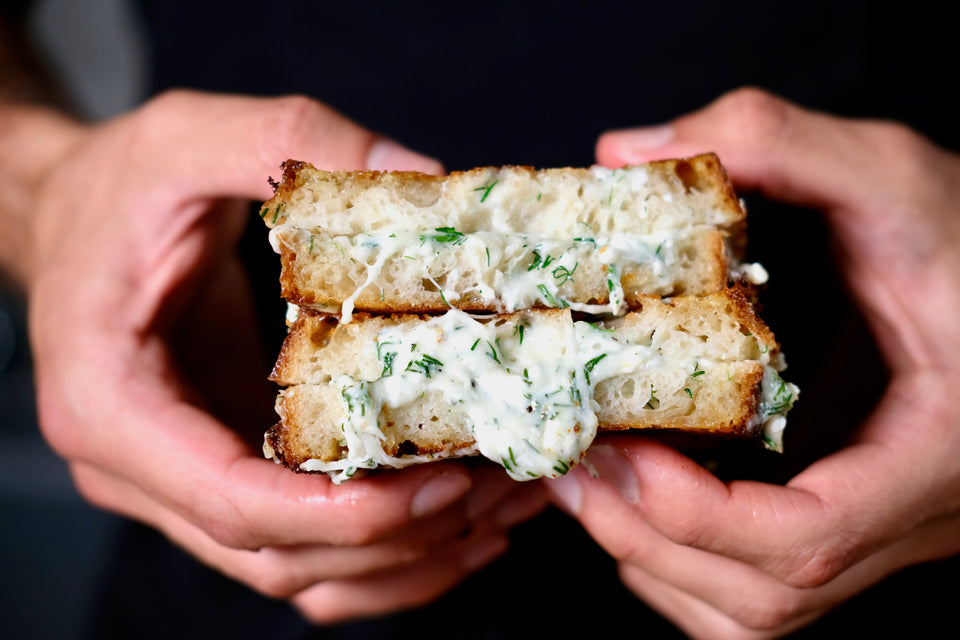 When you cook all the time, it can be pretty easy to get into a cooking rut. We're here to help. Looking for a laid back lunch? We've got a protein-packed grilled cheese sandwich that rivals the best diner versions. Wanting a fresh take on weeknight pasta? This Korean vegan twist on mafaldine will become a family favorite. These 8 recipes are not just delicious, they're perfect for using your Hexclad pans. So what are you waiting for? Pick what looks tastiest and get cooking.
Pork Roll Egg and Cheese Sandwich
People sometimes think—wrongly, if we may suggest—that simple dishes don't need recipes. We beg to differ. It's the simple stuff that show the small details. Case in point: this epic breakfast sandwich, layered with thin slices of pork roll, melty American cheese, and a spicy ketchup-based sauce with a few secret ingredients (sauerkraut, pickled hot pepper, and tabasco). Get the recipe for Pork Roll Egg and Cheese Sandwich here.
Kuku Sabzi
The classic Persian dish for a herb-packed egg pancake is delicious served as an appetizer, light meal, or side dish. Zoya Biglary's rendition of the Persian classic is topped with tart barberries and chopped walnuts. Get the recipe for Kuku Sabzi here.
Saffron Surf and Turf
Delight your dinner party guests with Zoya Biglary's restaurant-worthy surf and turf that has a Persian twist. Zoya's recipe for the classic lobster and steak combo is topped with a delicious saffron butter. To achieve the perfect crust on the steak with your 12" HexClad Hybrid Frying Pan and broiling the lobster tails. Get the recipe for Saffron Surf and Turf here.
Tteokbokki Mafaldine
Joanne Molinaro's recipe for this spicy pasta combines the Korean staple tteokbokki—simmered rice cakes—with ruffled mafaldine pasta. Coating each bite is a spicy-sweet gochujang-based sauce. Known for her popular website The Korean Vegan, Joanne calls for vegan butter, but if you don't eat vegan, feel free to use regular butter, instead. Get the recipe for Tteokbokki Mafaldine here.
Spicy Tuna Crispy Rice
There's no need to shell out crazy amounts of cash at a fancy Japanese restaurant for Spicy Tuna Crispy Rice when you can make it at home. Though it takes a bit of time to make the crispy rice rectangles, your HexClad pans will ensure you get the ideal texture on every bite. Get the recipe for Spicy Tuna Crispy Rice here.
Chicken Parm Sandwich
Not to be too dramatic, but you haven't lived until you've had a creamy spicy tomato sauce spooned over on a perfectly breaded chicken parm cutlet. You'll top each cutlet with mozzarella and parmesan before broiling them and sandwiching on toasted baguette. The final touch is a sprinkling of basil leaves, which bring herbaceous balance to each bite. Get the recipe for Chicken Parm Sandwich here.
Cottage Cheese Vodka Pasta
If you've been seeing all the cottage cheese recipes blowing up on TikTok and wondering what the fuss is all about, it's time to check out Jake Cohen's remix of classic pasta with vodka sauce. The key is to blend the cream cheese with the vodka-spiced tomato sauce so it's extra creamy without relying on heavy cream. The recipe calls for mafaldine pasta, but you can use your favorite noodle. Get the recipe for Cottage Cheese Vodka Pasta here.
Grilled Cottage Cheese Sandwich & Tomato Soup
Jake Cohen gives the classic duo of grilled cheese and tomato soup the TikTok treatment with a dollop of cottage cheese. In addition to mozzarella and cheddar, Cohen adds cottage cheese to the sandwich, which gives it an extra rich and creamy touch. Dill adds a fresh twist to the sandwich, while bright, tart sumac adds zing to the soup. Get the recipe for Grilled Cottage Cheese Sandwich & Tomato Soup here.
For more cooking ideas, check out Jake Cohen's tips for cooking with grilled cheese, Zoya Biglary's ideas for adding Persian flair to your cooking, and Joanne Molinaro's list of superstar Korean vegan ingredients.