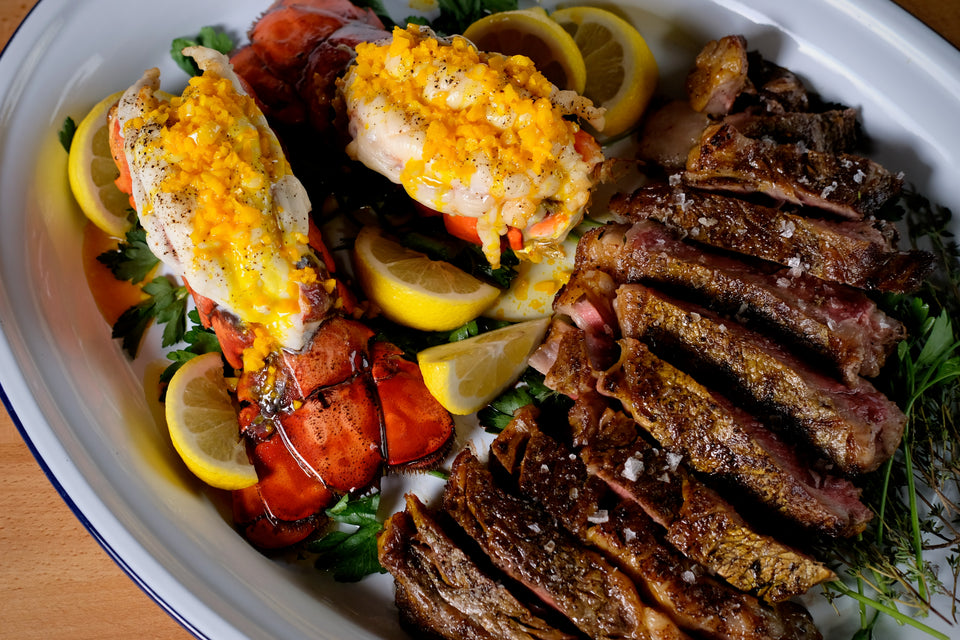 Preparation
For the Saffron Juice: 
Prepare saffron by crushing the threads with a mortar and pestle, then add an ice cube to melt it. Set aside.
For the Steak:

Allow the ribeye steaks to sit at room temperature for 30 minutes before cooking.

Season the ribeye steaks generously with salt and pepper.

Heat a 12" HexClad Hybrid Frying Pan over medium-high heat for 1 minute.

Add 2 tablespoons of cooking oil and 1 tablespoon of butter and let sit until butter melts completely. Place the ribeye steaks in the pan and allow them to sear and develop a crust—about 3 to 4 mintues—before flipping them over.

Add an additional 1 tablespoon of butter, 1 tablespoon of saffron juice, and crushed garlic cloves to the pan.

Baste the steaks in the saffron butter for 1-2 minutes before removing them from heat. Allow the steaks to rest for 5 minutes before slicing.

For the Lobster:
Preheat the oven to the broil setting at 400 degrees.
Prepare the lobster tails by cutting the top layer open and butterflying the meat.
Season the lobster tails with oil, salt, and pepper.

Place the lobster tails on a baking tray and cook in oven for 8 -12 minutes, depending on the size of the tails.

In a separate pan, melt half a stick of butter with minced garlic and 1 tablespoon of saffron juice.

Serve sliced steak and lobster tails alongside the melted saffron butter and a lemon wedge.