Zoya Biglary's Tips For Adding Persian Flair To Your Cooking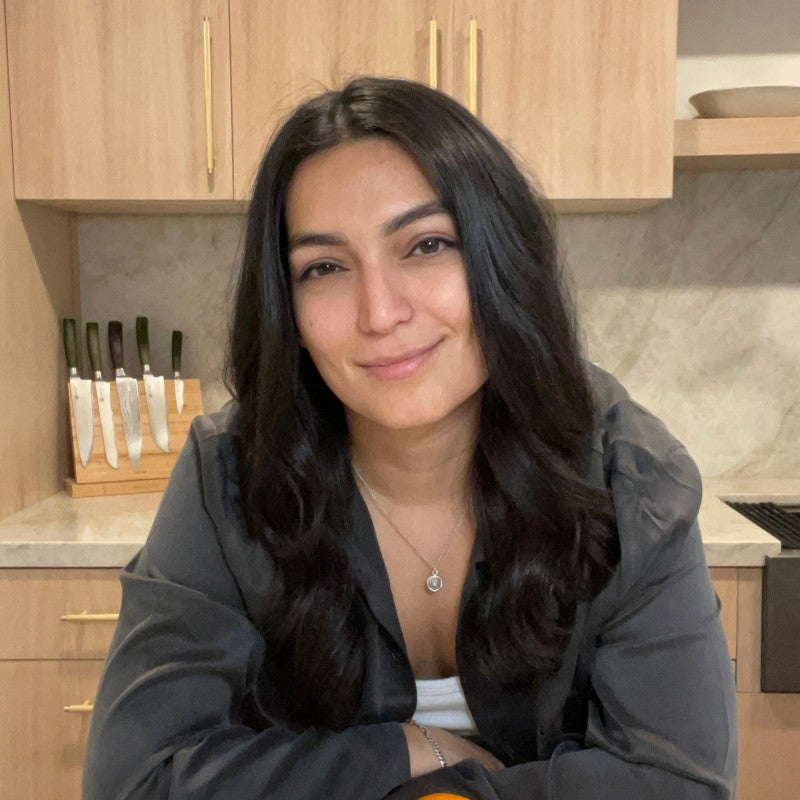 Zoya Biglary never thought that peeling an apple would have been the thing made her go viral. In the TikTok in question, she stands, holding a Granny Smith apple in her left hand and a wood-handled knife in her right. She talks to the camera as she rotates the knife around, releasing the green peel in a perfect spiral, talking about how there's absolutely no need for an apple peeler while proving her point.
"The thing is," Biglary told HexClad, "it's normal to me. Persians eat a lot of fruit. It's what you grow up doing. You eat fruit with your grandparents, with your parents." To peel fruit properly, she says, is one of many inheritances of growing up Persian.
Though Biglary didn't set out to be a food content creator, her girlfriend (Alix Traeger) comes from a food background and nudged Biglary to start making food videos. After the apple video went viral, Biglary started getting feedback from viewers who were relating to her. On the internet, Biglary says, "it's not that statistically common to see someone making Persian food, let alone a queer Persian girl making food." That's one reason that her videos took off, she thinks. People were simply happy to see their cuisine resonated.
Biglary has taken her traction on Tiktok and Instagram as an opportunity to showcase the things she cares about. Of course, that includes peeling fruit, as well as her favorite Persian dishes like tahdig—a crispy rice dish that's notoriously difficult to make—and kuku szabzi, which she made in the HexClad kitchen.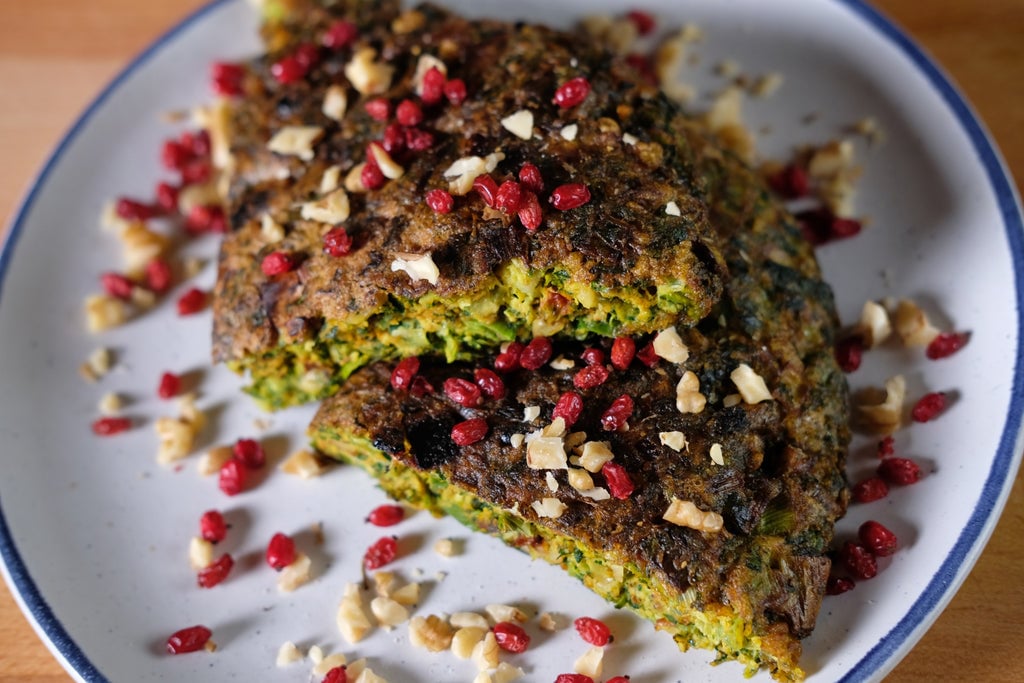 Though kuku szabzi is eaten throughout the year, it's almost always served alongside fish for Persian New Year, which occurs at the same time as Spring Equinox. Biglary compares the egg-based dish to a very thin frittata or omelet, but made with more greens than eggs. This makes it an ideal representation of the vitality of the new season, when green is returning to the land. "Kuku szabzi translates literally to beat up greens. It's a vegetarian super food!" says Biglary, who launches into a litany of reasons she loves the dish. It's easy to make, and, thanks to the abundance of greens, it's chock full of antioxidants. Kuku szabzi is served with barberries or sour cherries and ground walnuts. Biglary loves the dish because it's vegetarian, making it inclusive for many different diets. Plus, it's a crowd pleaser.
This element of kuku szabzi is more important than it may at first seem. As far as categories of food go, crowd pleasers might be just as important to Biglary as Persian food. "What I love to make most are dishes that make people happy," she says. She loves to make big batch lasagna and pasta with a little Persian flair for big dinner parties.
A common thought Biglary finds herself having about non-Persian dishes is, "This is amazing, but it would be so much better with a zing of lemon or a bit of heat." Her girlfriend has pointed out Biglary wouldn't dream of leaving turmeric—the spice that gives many Persian dishes their golden hue—out of many dishes anymore, no matter their origins. That being said, Biglary stresses that she's not in the business of totally changing the way things are made," but enjoys bringing a Persian influence to it.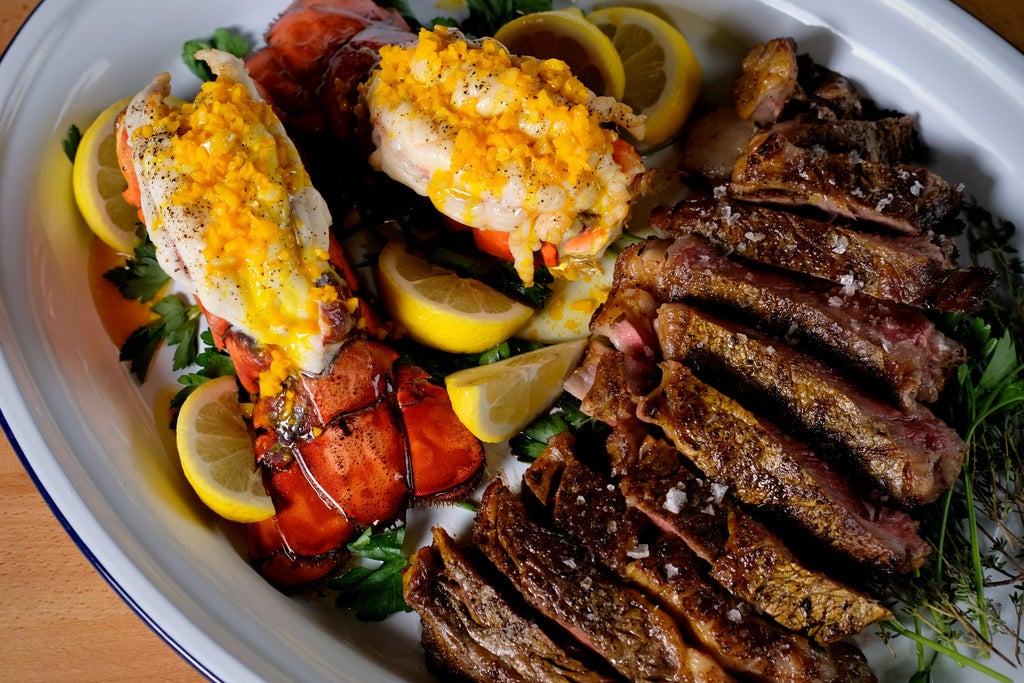 [Biglary's Saffron Surf and Turf]
Changing around ingredients in classic Persian dishes is central to how Biglary started cooking. She doesn't eat red meat, nor much seafood, and though she sometimes eats chicken, eschewing those ingredients can make eating Persian food tough. Growing up, her mom would cook traditional beef or lamb stews with chicken to make her feel included. That spirit of inclusion through food has stuck with her. Persian culture is ancient, says Biglary, and food had a purpose and intention. Dishes like kuku szabzi grew out of that. Nowadays, you'll see it folded and tucked into bread and topped with pickles. The spirit of combining old and new, of highlighting the best of Persian cuisine, runs like a heartline through her cooking.
It's not just about showcasing the food, though. "People are desperate to see some sort of representation that's similar to them," she says. "If you do happen to be a Middle Eastern queer girl and you see someone on a cellphone screen or TV screen and that person looks happy, that matters."
Zoya Biglary's Tips For Adding Persian Flair To Your Cooking
Use kebab seasoning in your lasagna:

A combination of paprika, turmeric, and chili brings the delicious flavor of Persian kebabs to Biglary's vegetarian lasagna. This adds a deep, meaty, smoky flavor. Vegan sausage is her go-to, but she'll use mushrooms instead, if someone doesn't like plant-based meats.

Swap labneh in for sour cream: 

Biglary uses labneh where she would sour cream or other types of dairy. The thickness and tartness of labneh is a great meat tenderizer, you can make a quick dip. She'll riff off tzatziki, stirring cucumbers and dill into a bowl of labneh.

Use herbs with abundance:

"Persians are one of the top cultures in terms of using herbs," says Biglary. Entire stews are made from herbs—they're not decoration on top or a small pinch. Kuku Szabzi calls for entire bunches of each herb. Use dill and mint for pops of flavor that you don't expect. Of course, there's a lot of flat-leaf parsley as well. Fold them into your omelet, stews, pastas, or wherever the bracing, bright flavors of herbs would be welcome.