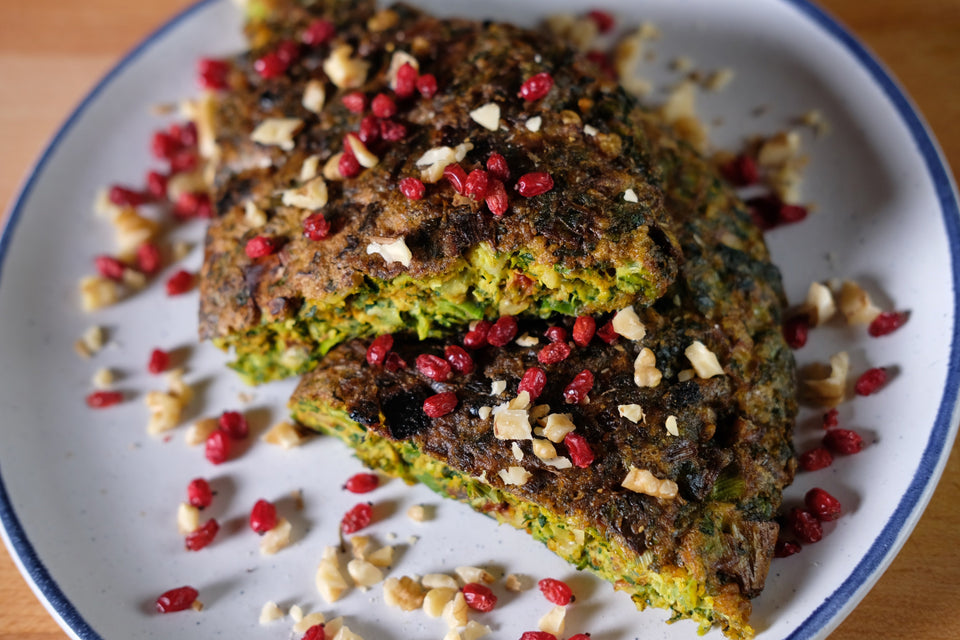 Time to complete
45 minutes
Preparation
Start by preparing the leeks. Slice them in half lengthwise and then finely chop them. Be sure to wash them carefully.

In a 12" HexClad Hybrid Frying Pan, heat 1 tablespoon olive oil over medium heat.

Add the chopped leeks to the skillet and cook them until they are softened and fully cooked, about 8 to 10 minutes. Remove the cooked leeks from the heat.

In a large bowl, whisk the eggs. Add the baking powder, ground fenugreek, salt, and ground turmeric and stir until combined. Gently fold in the chopped parsley, cilantro, dill, walnuts, barberries, and the cooked leeks into the egg mixture. Stir until all the ingredients are evenly distributed.

In the same pan, heat the remaining 2 tablespoons of olive oil over medium heat. Add the herb and egg mixture to the pan and distribute it evenly in the pan. Cover the pan and cook the mixture until the bottom and edges are set, about 7 to 10 minutes.

Remove the lid, slice the kuku sabzi into smaller pieces, and carefully flip each piece over. Continue cooking until the top and middle of the kuku sabzi are cooked and slightly browned, about 2 to 3 minutes.

To serve, garnish the kuku sabzi with more crushed walnuts, barberries, and a squeeze of lime juice.