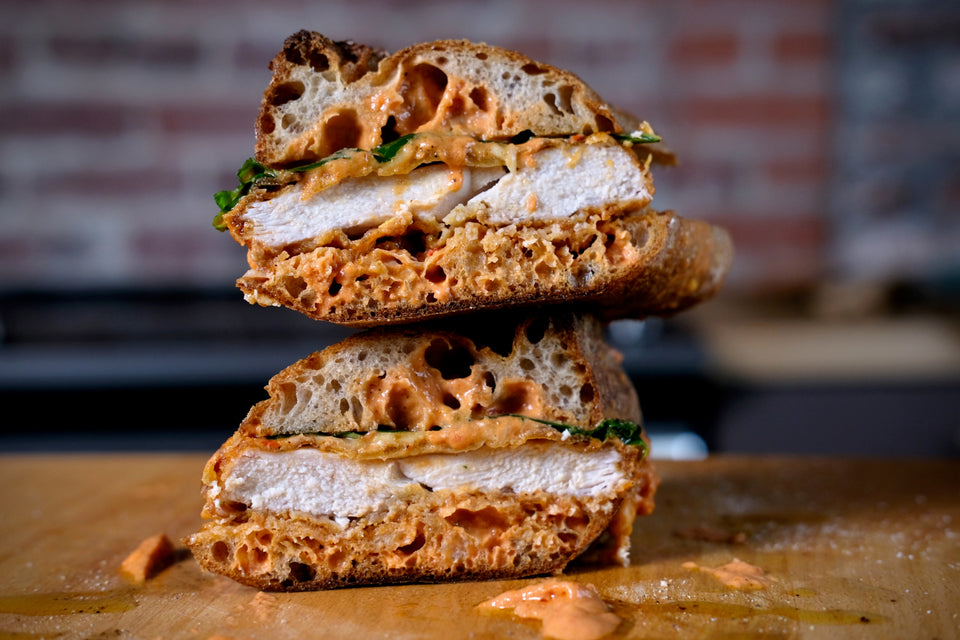 Time to complete
1 hour 5 minutes
Preparation
Heat a HexClad Hybrid 2 Quart Pot over medium-high. Add the oil, Calabrian chili pepper, and sliced garlic. Cook, stirring, until garlic is fragrant, about 1 minute. Add tomatoes and season with salt. Return to a boil, then immediately reduce heat to medium-low and simmer, stirring occasionally, until sauce is very thick, about 40 minutes. Pour in heavy cream and stir to combine. Remove from the heat. 
Meanwhile, place one piece of chicken on a cutting board and place one hand on top, curving your fingers up slightly for safety. Insert the knife into the middle of the thickest part and cut horizontally almost to the other side. Open it like a book.
Place butterflied chicken inside a plastic bag or between two sheets of plastic wrap. Working from the center out, pound with the smooth side of a mallet until meat is about 1/8 inch thick. Repeat with remaining piece of chicken. Season butterflied chicken breasts with salt.
Place flour in a shallow bowl. In another shallow bowl, whisk the eggs until smooth. In a third shallow bowl, combine breadcrumbs, parsley, the minced garlic, and ½ teaspoon salt. 
Working with 1 piece of chicken at a time, dredge in the flour, then in the eggs, and finally the breadcrumb mixture, gently pressing the breadcrumbs into the chicken so it sticks. Place breaded chicken on a plate.
Heat the oil in a HexClad 7 QT Chicken Fryer or HexClad Deep Sauté Pan over medium heat until shimmering, about 6 minutes. Working in two batches, fry chicken, flipping halfway through until golden brown on both sides and just cooked through, about 3 to 4 min per side. Remove chicken to a 9-by-13" baking dish.
Preheat the oven to broil on high with a rack in the upper third. Generously spoon some sauce over top of each piece of chicken and top with mozzarella cheese and parmesan cheese. Broil until cheese starts to char and bubble, 5 to 8 min. 
Arrange baguette cut side up on a baking sheet. Broil until lightly toasted, about 2 minutes. 
Cut each piece of chicken parmesan in half. Top bottom halves of baguette with chopped parsley, a few grinds of black pepper, a generous spoonful of tomato sauce, a piece of chicken parmesan, and basil leaves and close sandwich with top halves of baguette.