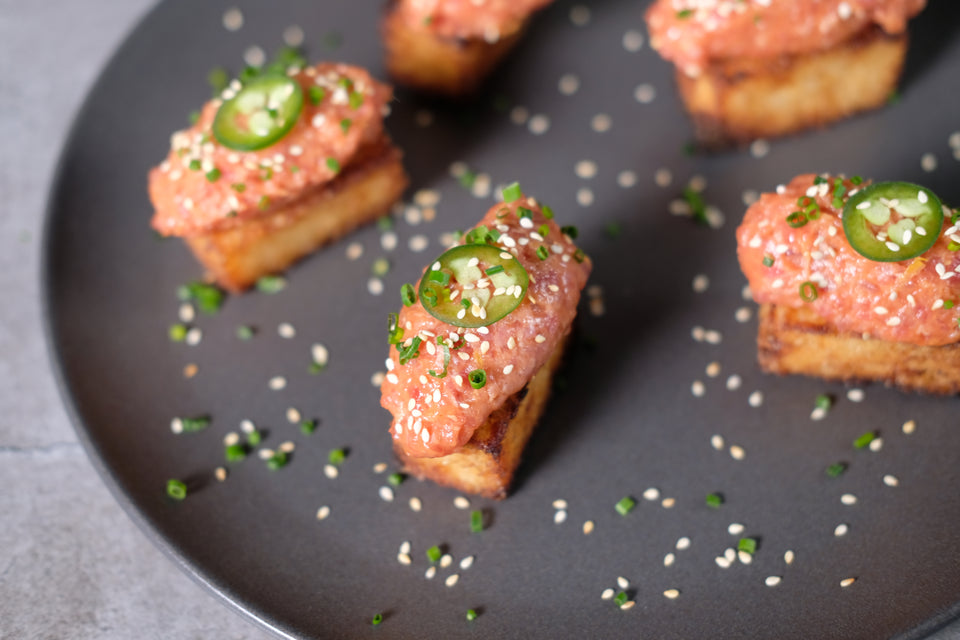 Time to complete
2 hours 30 minutes
Preparation
Make the rice: Rinse and drain the rice in a colander until the water runs clear. Scrape rice into a HexClad 5 QT saucepan and add 2 ¼ cups of water and the kombu. Bring to a boil over high heat. Reduce heat to low, cover, and simmer until rice is tender and water is absorbed, about 18 minutes. Remove from the heat and let stand, covered, for 10 minutes. 
Meanwhile, combine the vinegar, sugar, and salt in a Hexclad 1 QT Saucepan. Place over medium heat and cook, stirring, until sugar and salt are dissolved. 
Discard the kombu and gently fold vinegar mixture into rice until rice is well coated.
Line an 8-by-8 inch square baking pan with plastic wrap, leaving a 2-inch overhang on all sides. Transfer the rice into the lined pan and press into an even layer. Cover with plastic and refrigerate until well chilled, at least 1 hour or up to overnight. 
Make the spicy tuna: Very finely dice the tuna using a chef's knife and toss in a medium bowl with the mayonnaise, sriracha, ponzu sauce, chili crunch oil, honey, sesame oil, ginger, and lemon zest. Cover and keep refrigerated until ready to use.
Fry the rice: Remove the chilled rice from the baking pan using the plastic wrap overhang to a work surface; discard plastic. Using a wet chef's knife, slice the rice in 8 strips, then slice each strip crosswise into 3 rectangles. 
Heat ½-inch of canola oil in a Hexclad 7 QT Hybrid Deep Sauté Pan/Chicken Fryer or Hybrid Deep Sauté Pan. Working in two batches, fry rice rectangles, turning occasionally, until golden brown and crisp all over, about 10 minutes. Remove to a wire rack set over a baking sheet or paper towel lined plate.
Dollop a spoonful of spicy tuna mixture on top of each crispy rice. Garnish with the jalapeño and sesame seeds and serve right away.