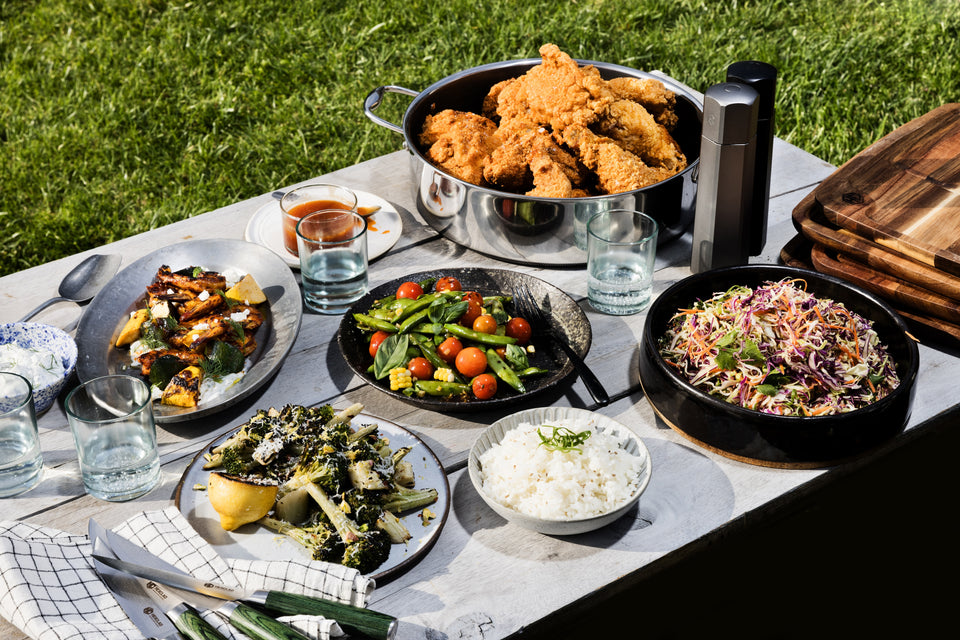 Summertime is the best time of year to cook—the farmers' market is bursting with fruits and vegetables and sitting outside for dinner is finally possible. Despite the bounty, coming up with summer food ideas can be tough. Here are some ideas for harnessing what the best time of year has to offer, whether you want to make the most of the grill or avoid the stove all together. 
Below, find easy recipe ideas for zucchini, corn, tomatoes, snap peas, watermelon, peaches, and more to make summer dinners easier.
No-Cook Summer Dinner Ideas
If it's sweltering where you are, there's no need to turn on the stove. These no-cook ideas for summer dinners just require stirring, chopping, blending, or other cool techniques.
Rotisserie chicken with lemon-tahini slaw:

No oven? No problem. Pick up a tender rotisserie chicken and pair it with this simple cabbage slaw, which gets an upgrade with a dijon-spiked tahini dressing.

Bruschetta:

Sometimes, it's so hot that all you need is toast. Make it a fancy toast with bruschetta.

Watermelon Gazpacho:

Forget watermelon salad, blending watermelon into a tasty soup is so much more exciting. Try this recipe from Delish, which is spiked with jalapeño to complement the sweet fruit.

Prosciutto and Peach Caprese:

Layer slices of tomato, fresh mozzarella, and peaches with fresh basil leaves. Drizzle with extra-virgin olive oil and sprinkle with flaky sea salt and freshly ground black pepper.
Easy Summer Grilling Ideas
The grill is the all-star of summer dinners. Use your grill (and your HexClad BBQ grill pan) to make quick and easy summer crowd pleasers.
Grilled Steak with Grilled Lemon Broccoli with Pistachio-Parmesan Sprinkles:

You haven't lived until you've tasted how a grill transforms boring broccoli into a sophisticated side worthy of the finest steak.

Greek Grilled Shrimp with Feta-Tzatziki:

Take a trip to Greece with this quick and easy dish, which combines spiced, marinated shrimp, tender grilled squash, and a Feta-spiked rendition of tzatziki. Serve with a quick horiatiki, the famous tomato-and-cucumber salad.

Grilled Halloumi and Vegetable Wraps:

Tuck planks of grilled halloumi and grilled vegetables like eggplant, zucchini, and peppers into lavash or pita bread. Dollop with tzatziki or hummus.

Turkey-Zucchini Burgers:

Beef burgers get all the attention, but these juicy turkey burgers from

The New York Times

are worth a spot on the grate. Souped up with grated zucchini, the burgers are perfect sandwiched between hamburger buns with your favorite condiments. 
Summer Produce Stunners
In-season ingredients taste so much better. These dinners let the best of the season shine.
Classic Summer Favorites
It's not summer without these dishes.
Fried Chicken With Spicy Honey Butter:

If you don't have a go-to recipe for fried chicken in your back pocket, here's the one that earns its keep. Serve it hot or take leftovers on a picnic.

Grilled Sausages with Classic Potato Salad:

It's not summer without a batch of potato salad. Pair it with your favorite sausages, and a tub of ice-cold beers, too. Try this recipe from

Bon Appétit.

Picnic-Worthy Pasta Salad:

Upgrade your standard pasta salad with the flavors of ratatouille—zucchini, eggplants, and tomato. This recipe from

Epicurious

pairs the southern French staple with penne, mozzarella, and fresh basil leaves.

Laid-Back BBQ Ribs:

Get out the napkins, because saucy BBQ ribs are on the menu. Real Simple's mostly make-ahead recipe for the summer staple combines tomato puree with pomegranate molasses and honey.
And after dinner, make sure to save room for peach skillet cobbler, best served with scoops of vanilla ice cream.