Greek Grilled Shrimp with Feta-Tzatziki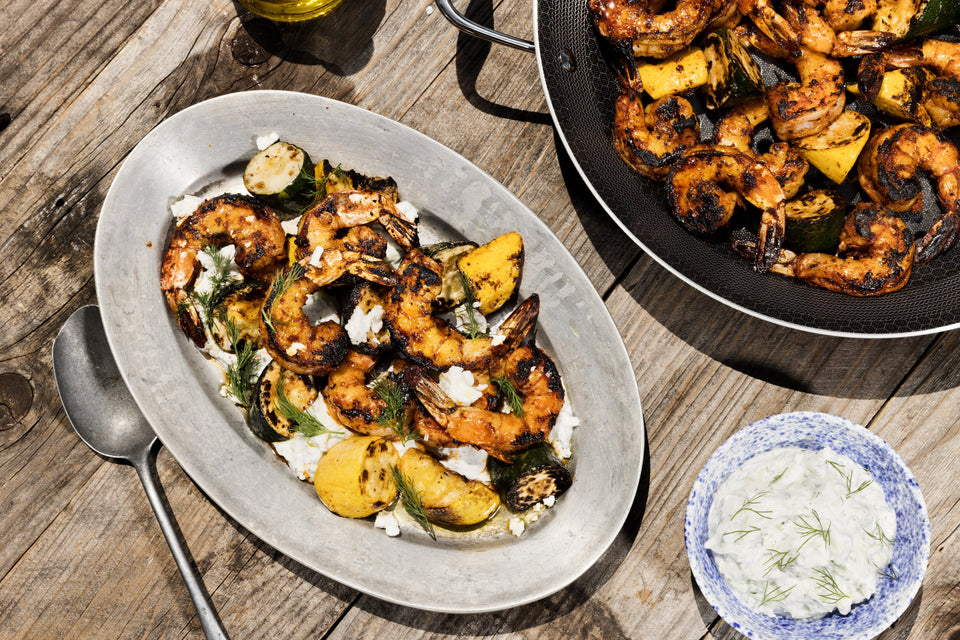 Preparation
Prep time: 10 minutes
Total time: 50 minutes
TZATZIKI
1 English cucumber

2 cups plain whole-milk Greek yogurt

3 tablespoons fresh lemon juice

2 tablespoons chopped fresh dill fronds, plus more for serving

1 clove garlic, minced

3/4 c. crumbled Feta cheese, plus more for serving
Make the shrimp: In a large bowl, combine 2 tablespoons of the oil, the vinegar, honey, smoked paprika, sweet paprika, oregano, garlic, and 1/2 teaspoon kosher salt. Add shrimp and toss to coat. Let marinate at room temperature for 30 minutes. 
Meanwhile, preheat grill with the HexClad BBQ Grill Pan placed on the center of the grill over medium-high heat, 15 minutes. In another large bowl, toss the zucchini with the remaining tablespoon of oil and season with salt and pepper.
Add vegetables to preheated grill pan (reserving the bowl) and cook, tossing a few times, until just tender and lightly charred, about 5 to 8 minutes. Return vegetables to the bowl. 
Add the marinated shrimp to the preheated grill pan and cook, turning once, until just cooked through and lightly charred, about 10 to 12 minutes. Add shrimp to the bowl with the vegetables.
Meanwhile, make the tzatziki: Grate the cucumber on the large holes of a box grater into a medium bowl and toss with a few pinches of salt. Squeeze with your hands to release excess water and drain. Add the yogurt, lemon juice, dill, garlic, and feta cheese and mix until combined. Season to taste with salt and pepper. 
Serve shrimp and grilled vegetables with tzatziki. Drizzle with more oil and sprinkle with more dill.