Fried Chicken With Spicy Honey Butter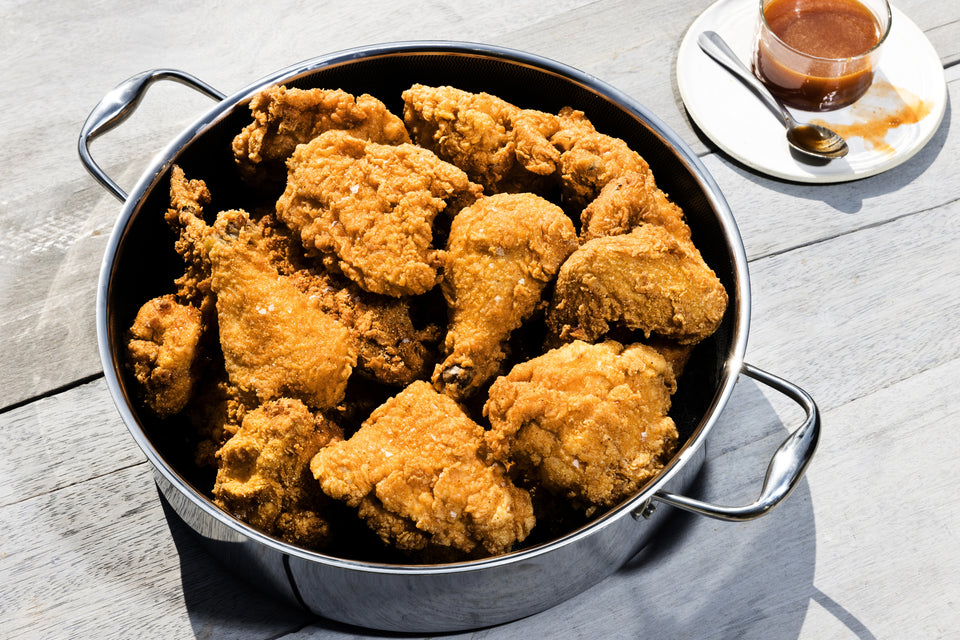 Preparation
Prep time: 10 minutes
Total time: 3 hours 45 minutes
In a large bowl, whisk the buttermilk, dry mustard, cayenne, 4 teaspoons salt, and 1 teaspoon black pepper until combined. Add the chicken and stir to coat. Let sit at room temperature for 2 hours or up for 4 hours in the refrigerator. If cold, let chicken stand at room temperature 1 hour before breading.
In a shallow bowl, whisk the flour, cornmeal, paprika, onion powder, garlic powder, 3/4 teaspoon salt, ½ teaspoon black pepper, and cayenne, and shake to combine.
Working with one piece at a time, remove the chicken from the marinade (do not shake off excess) and dredge in flour mixture, pressing so it adheres all over. Transfer coated chicken to a baking sheet. 
In a HexClad 7QT Chicken Fryer, heat about 1 inch oil (about 10 cups oil) to 350°. Working in 2 batches, fry chicken pieces, turning once until golden brown and a thermometer inserted into the thickest part (avoiding the bone) reads 160°, about 7 minutes for smaller pieces and up to 12 minutes for larger pieces, adjusting heat to maintain oil temperature around 325 to 350°. Transfer chicken to a wire rack or paper towel set over a rimmed baking sheet and sprinkle with salt.
Melt butter in a HeCclad 1QT Saucepan and remove from the heat. Whisk in the honey and sriracha. Serve fried chicken with spicy honey butter drizzled over the top and the remaining spicy honey butter on the side.