The Three Recipes You Should Master In Your Wok
by HexClad Cookware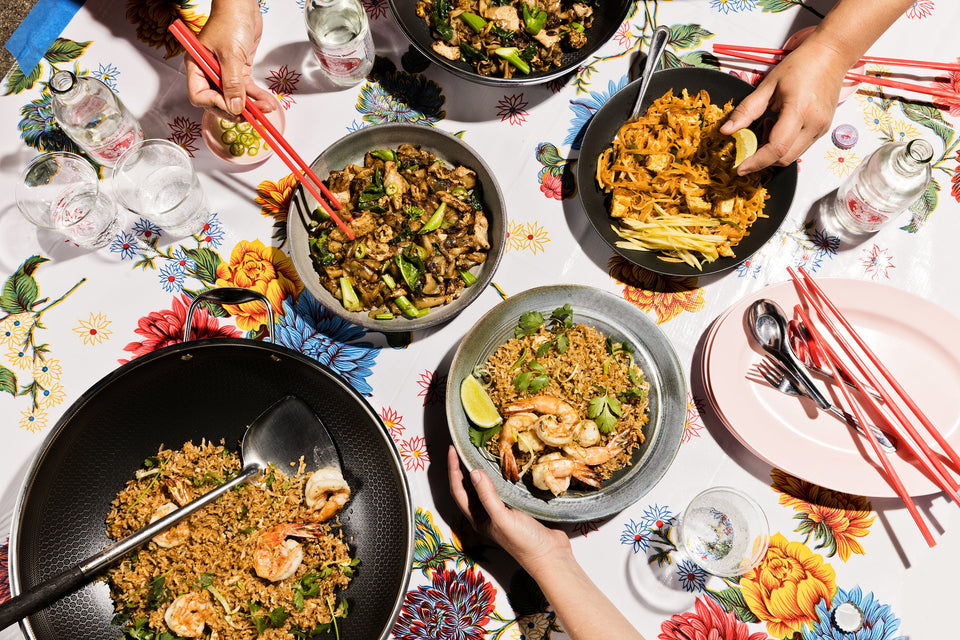 The wok is a versatile kitchen tool that you can use for everything from stir-fries to steaming vegetables to scrambling eggs. Commonly made from carbon steel, iron, aluminum, or copper, this thin-walled cooking pan has a round bottom, ideal for concentrating heat. (Flat-bottomed woks are common in Western kitchens, which allow them to sit on the burner comfortably.) HexClad's own woks (which come in 12-inch and 14-inch sizes) is a combination of aluminum and steel and comes with a bonus: it has a nonstick coating, making it easier to clean. Though the pan is believed to have originated in China, the wok is a popular cooking implement throughout Asia, including in Thailand, where these three recipes hail from. They're the perfect starter set to break in your new wok.
High heat is crucial for the best flavors and textures when cooking with a wok, so it's key to have all your  ingredients prepped and ready to go before you begin. 
Pad Thai
Though this dish is one of the first that comes to mind when "Thai food" is mentioned, the dish only rose to popularity in Thailand in the 1930s when rice supplies were limited. The prime minister at the time, Plaek Phibunsongkhram, promoted the dish as an economical alternative, supplying Thai citizens with the recipe and encouraging street vendors to sell the dish.
The dish takes its format from Chinese cooking—a common influence in Bangkok, where cuisine is often a hybrid of Thai and Chinese influences—pad Thai adapts the stereotypical Chinese noodle stir-fry with Thai flavors. In fact, its full name is kway teow pad Thai, which means stir-fried noodles Thai-style in Thai.
The building blocks of pad Thai are thin rice noodles, vegetables, bean sprouts, egg, and an inexpensive protein (like chicken, shrimp, or pork), all coated in a sweet-and-sour sauce.
Though there's no hard and fast rules for pad Thai, getting the sauce for pad Thai right is key. To make it, you'll combine tamarind paste or juice, palm sugar, fish sauce (nam pla), and water.
To make pad Thai, you'll start by heating a wok over high heat. As chef Deau Arpapornnopparat of Holy Basil in Los Angeles, California says, hot heat is the key to good flavor and the right cooking times, so leave the heat on high and pull the wok off the heat, rather than turn it down. After stir-frying your protein of choice until cooked, you'll add soaked rice noodles to cook through, then add the sour-sweet sauce, and finally end by cooking the egg and stirring it in. Classic garnishes for pad Thai include chopped roasted peanuts, sliced scallions, and bean sprouts, plus a wedge of lime for a hit of fresh flavor.
You'll see a crisp, fresh garnish like raw mango or sour fruit in Bangkok. Though pad Thai is often served wrapped in a banana leaf in Thailand, you can simply pile it in your favorite bowl and dig in.
Pad See Ew
Like pad Thai, pad see ew (also commonly written as phat si-io, pad siew, or pad siu), this stir-fried noodle dish traces its origins to China. The name literally translates to "soy sauce stir-fried noodles," hinting at its key ingredient: soy sauce. Made with wider noodles than pad Thai, the sen yai, or extra-wide rice noodles cook up both chewy and dense, and take on the wok hei—that delicious caramelized, smoky flavor that comes from cooking in a well-seasoned wok over very high heat.
Pad see ew uses sweet dark soy sauce, which is thicker, darker, and—as you might guess—slightly sweeter than regular soy sauce. It gives the noodles their characteristic darker color and adds a deep umami flavor to the dish. Typically, pad see ew includes marinated sliced meat as well as Chinese broccoli (kai-lan).
Fried Rice
There are no hard and fast rules for this popular dish, which can also trace its origins back to the Sui Dynasty in 6th century China. This economical way to use up leftovers became a popular dish countrywide, and soon spread to other countries like Japan and Thailand. Many swear by using day-old rice to make it, but it's not a requirement for great fried rice. Here's a simple base method to get going with fried rice: Start by getting your wok searing hot, heat some oil, and crisp the rice (whether freshly cooked and cooled or up to 3 days old). Next, you'll want to cook the add-ins—carrot, scallion, and garlic are popular—before tossing them together with the crisped rice. Now's a good time to add seasonings, whether you go for soy sauce, oyster sauce, MSG, and/or toasted sesame oil. Then, push everything to one side of the pan and add a bit more oil, then crack in an egg or two. Scramble gently, then fold into the rice mixture. If you want to add peas, now's the time to stir them in so they steam lightly.
Sources:
Ferdman, Roberto A., and Quartz. "The Non-Thai Origins of Pad Thai." The Atlantic, 17 Apr. 2014, www.theatlantic.com/international/archive/2014/04/non-thai-origins-of-pad-thai/360751/.
Greeley, Alexandra. "Finding Pad Thai | Alexandra Greeley." Gastronomica, 10 Feb. 2009, gastronomica.org/2009/02/10/finding-pad-thai/#1. Accessed 15 May 2023.
Ng, Kenny. "Fried Rice and Long Life." Whetstone Magazine, 28 Feb. 2022, www.whetstonemagazine.com/journal/fried-rice-and-long-life. Accessed 16 May 2023.
Punyaratabandhu, Leela. "Pad See-Ew (ผัดซีอิ๊ว)." SheSimmers, 3 June 2010, shesimmers.com/2010/06/pad-see-ew-recipe-how-to-make-pad-see.html. Accessed 15 May 2023.
Rogers, Kara. "Wok | Cooking Pan." Encyclopedia Britannica, www.britannica.com/topic/wok.