These 8 Tips Make Using A Wok So Much Easier
by HexClad Cookware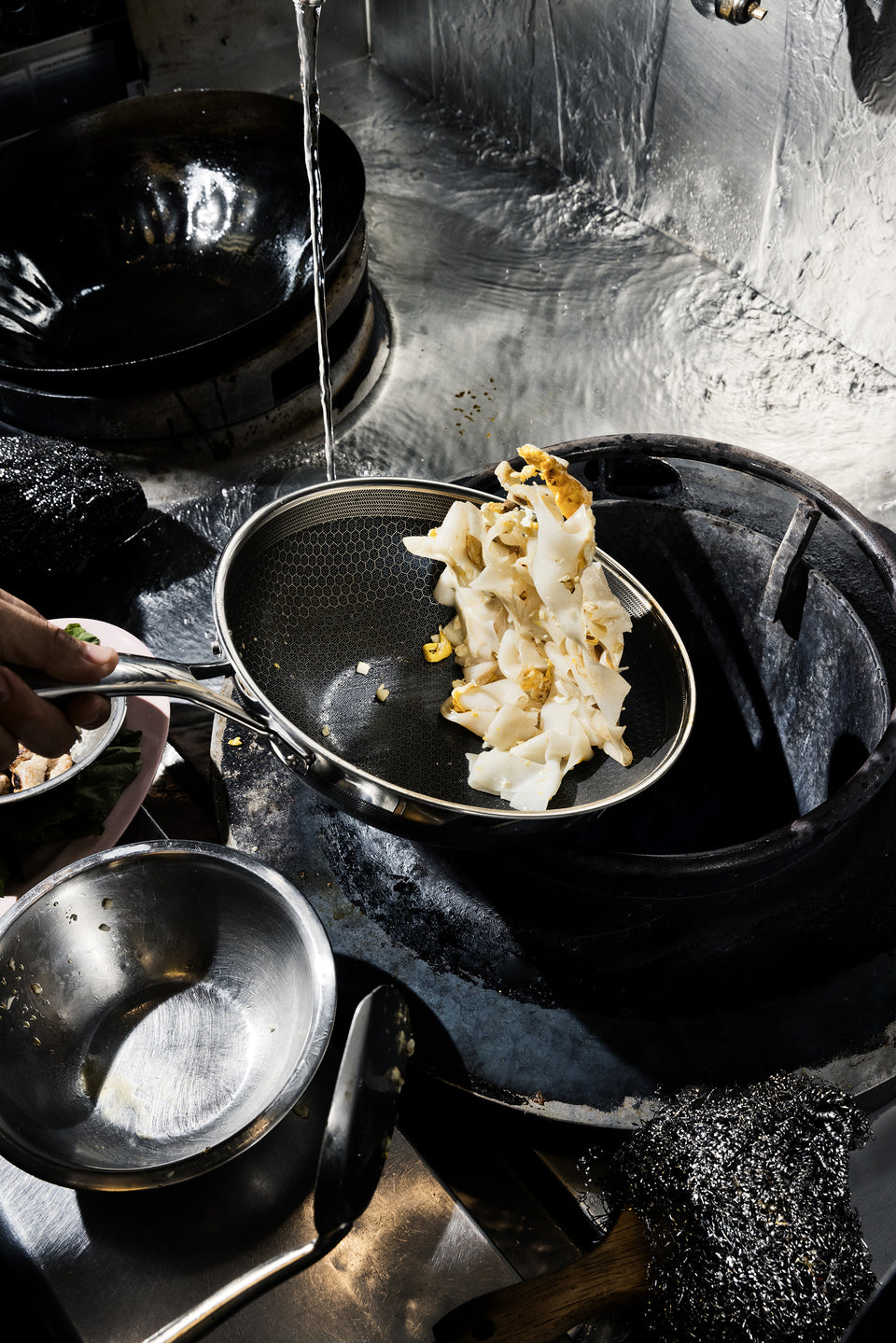 At Holy Basil in Los Angeles, the wok is the heart of the restaurant. Wedchayan "Deau" Arpapornnopparat and Tongkamal "Joy" Yuon started their business in early 2020, when the pandemic abruptly changed their work lives. Coming from Bangkok, where street food stalls turn out delicious wok-based food on the regular, it was only natural for Arpapornnopparat and Yuon to start making food on their own street. They began with dishes like gra pow and pad see ew, served with bespoke drinks. Eventually, they upgraded to a brick-and-mortar location just next door to their apartment building, where they built out a wok-centric menu.
Arpapornnopparat is passionate about the wok, stresses that the pan can be used for anything, from the recipes for pad see ew, pad Thai, and fried rice that he's shared with HexClad, to soup, curry, and steaming vegetables. The sloped, relatively high sides of the wok mean that there's more available surface area than a straight-sided or shallow skillet, which concentrates the heat of the pan. With a wok, Arpapornnopparat stresses, you don't waste your time: "Some people feel intimidated, but it's just another pan that's bigger."
Use the highest heat possible
"The wok should be on high all the time," says Arpapornnopparat. "The way you want to reduce heat is just removing the wok from the stove, then putting it back." When cooking with a wok, you're in a race against time. You want as high of heat as possible to get the wok hei——that delicious caramelized, smoky flavor that comes from cooking in a well-seasoned wok over very high heat—without burning the ingredients.
Especially with noodles, you'll want to use high enough heat so that the noodles release their moisture without overcooking and breaking. Same goes with fried rice: you want to sear, not steam.
Cook in batches of 1 or 2 servings
Arpapornnopparat says that "the number one thing about Thai cuisine is that you can't really scale a recipe from one to four. It will never be the same." If you're cooking for 4 or more, cook a single or double portion, then clean out the wok and repeat.
Fully clean the wok out before making the next batch
Because of the high heat you want to use to cook in the wok, there will be residue in the pan. Eventually, that will build up and taste like ash, so clean it out before making a second or third round.
Don't overcrowd the wok
Yes, a wok is a big pan, but its sloped shape is about maximizing heat, not about filling it to the brim with food. To get the best outcome, Arpapornnopparat says, don't put too much food in the pan. (This is why you only want to cook in small portions, too.)
Get your prep done in advance
It's easier to cook servings for 1 or 2 without holding up the meal if you have all your ingredients prepped. Plus, wok cooking is all about using the highest heat possible. This means they cook fast, so there's no time to stop and chop.
You don't have to flip
The point of flipping the noodles is to control the heat, so if you're not comfortable tossing the noodles in the pan, just take the pan off the heat, stir, and return the wok to the heat.
If you want to flip, start by practicing first
Even though Arpapornnopparat says it doesn't matter, he knows some cooks will want the jazzy fun of flipping the noodles in the wok. His tip? Start by putting a ball of steel wool in a cold wok off the heat and grab the handle of the wok firmly. Arpapornnopparat recommends trying a motion of pushing to the front, then pulling back, pushing out, pulling in.
You can always add water, but you can never take it out
When cooking the noodles in pad Thai (or adding liquid to other recipes) it can be tempting to add a lot of  liquid. But, Arpapornnopparat cautions, you can always add water, but you can never take it out.
Practice your wok skills with Arpapornnopparat's recipes for pad see ew, pad Thai, and fried rice.