All About Holy Basil, Downtown LA's Best Thai Food
by HexClad Cookware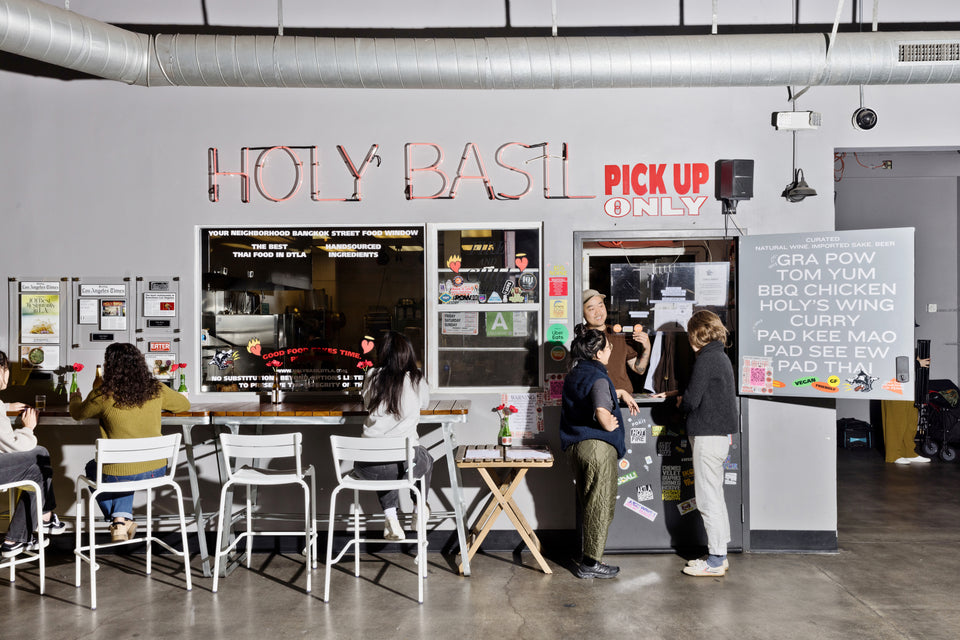 It's rare to say that the pandemic was good for much, but Los Angeles has Covid to thank for Holy Basil, the Bangkok-inspired Thai restaurant run by husband-and-wife team Wedchayan "Deau" Arpapornnopparat and Tongkamal "Joy" Yuon.
Before they became restaurateurs, the couple's natural beverage business, The Base, mainly served hospitality clients. Once the pandemic hit, their clients shut down, so Arpapornnopparat and Yuon decided to open a tent downstairs from their apartment where people could pick up drinks like Thai agua chile. The decision to start serving food was a casual one, Arpapornnopparat says. People were waiting around for their drinks, so they decided to serve some food that would pair well, settling on gra pow (which translates as holy basil), pad see ew, and pad Thai—three standards from their childhoods in Bangkok—to begin.
"I was always helping my mom cook," Arpapornnopparat says, so the flavors of her kitchen are woven into the fabric of Holy Basil's dishes. Arpapornnopparat remembers making "American fried rice" with his mom, featuring ketchup, raisins, hot dog, and fried chicken drumsticks. Since Yuon was always tinkering with her drink recipes, creating the recipes for Holy Basil came naturally to the couple.
The tent soon blossomed into a full outdoor pop-up with reservations, and it wasn't long until then their now-landlord offered a spot in a nearby food hall, which they moved into a few months later. Originally, the food was similar to izakaya drinking food. Among the dishes served, patrons could indulge in poo dong (pickled raw blue crab salad) and nam prik pla goong (relish and grilled prawns). Eventually, Holy Basil shifted into an all-day menu that's wok-based. They offer ready-to-drink Thai Tea from Happiness Capsule, the sub-brand of The Base. 
Everything at Holy Basil is inspired by street food stalls in Bangkok. The food in the city of over 5 million is heavily influenced by Chinese cuisine, which means you'll find dishes like stir-fried noodles and fried rice on the menu. At Holy Basil, the food is prepared how the expert street food vendors would, by cooking single portions over blazingly high heat. There are no shortcuts, no big batches stirred together for convenience. It matters to Yuon and Arpapornnopparat that the dishes are unique and—on a metaphysical level—that people can feel what he calls "the soul of our food" when they eat at Holy Basil.
Soon, Holy Basil will be expanding to Atwater Village with hopes to expand widely in the United States. Their hope, Arpapornnopparat says, is to bring Holy Basil to everyone.
Here are Holy Basil's of his Bangkok-style recipes to get you started with the wok:
Since small batches are the key to consistency in flavor and texture, Arpapornnopparat's recipes serve just one or two. For the complexity of flavor, the Holy Basil recipes call for three different types of soy sauce, but if you're in a pinch, regular soy sauce will do.
Holy Basil's pad Thai features a generous serving of rice noodles flavored with dried shrimp, paprika, sweet radish and a hit of sugar to balance everything out. In the traditional sauce, you'll find tamarind concentrate, vinegar, fish sauce, and palm sugar. Though Arpapornnopparat's recipe calls for tofu, you can substitute your favorite protein: shrimp, pork, chicken, and beef would all taste great.
The goal with pad see ew is to get dense, chewy noodles that have caramelized in the dark soy sauce. Chinese broccoli is typical for the green element in this dish, but you can substitute other kinds of broccoli if that's easier to find. On menus at Thai restaurants, you'll see any number of proteins served with pad see ew. Go with thin strips of pork, shrimp, or cubes of tofu, if you like.
The Thai spin on fried rice features generous amounts of soy sauce (three kinds) and a dab of shrimp paste for deep umami flavor. Though day-old (or even up to 3-day-old) rice is idea here, if you don't have any, you can cook and cool rice and then proceed with the recipe.