Here's The Summer Entertaining Menu You Always Wanted
by Matt Duckor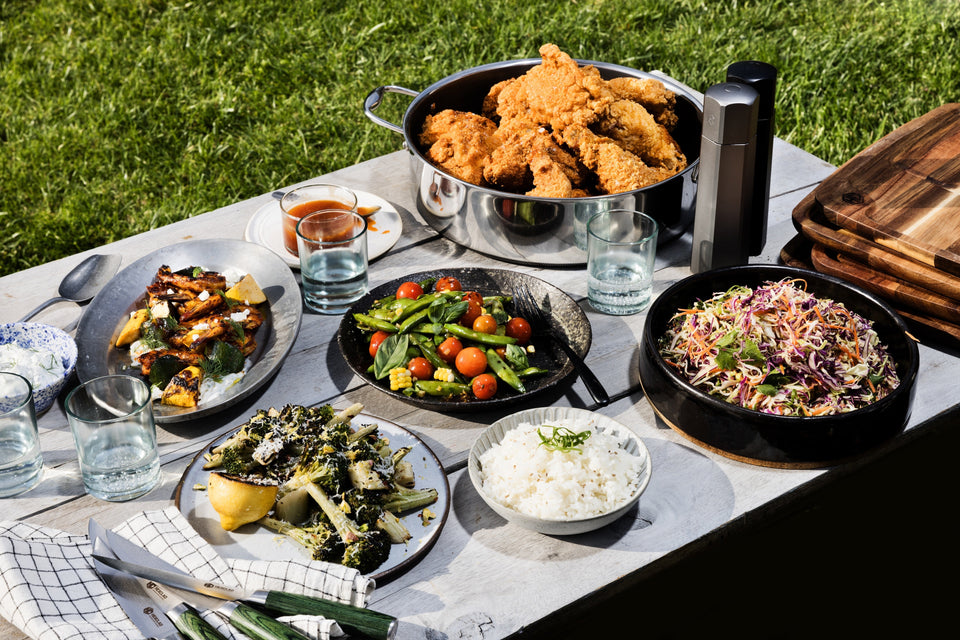 When the weather's good, the last thing you want to spend time on is planning a menu. Better to spend the time enjoying the sunshine and sharing meals with friends. Even better if you can make use of the grill. These 6 summer recipes are perfect for a casual dinner party under the still-light sky or for easy family meals by the pool. Making use of HexClad's BBQ Grill Pan, 7QT Chicken Fryer, 14" Hybrid Wok, and 12" Hybrid Pan, these recipes are sure to become go-to favorites from May to September.
Greek Grilled Shrimp with Feta-Tzatziki
The best part of using a grill pan is that you can avoid using skewers to make shrimp kebabs. Kidding…sort of. Using HexClad's grill pan allows you to corral marinated shrimp and zucchini while grilling, which not only prevents them from falling through the grates, it allows you to toss the ingredients so they cook evenly without a lot of fuss. Drawing off Greek-inspired flavors, you'll start by marinating the shrimp in a sweet-hot mixture of oil, vinegar, paprika, oregano, and garlic. Next up is grilling zucchini and following with the shrimp. Simple! Top it with a quick feta-infused tzatziki dip, a perfect tangy-yet-salty sauce to bring the taste of a Greek island wherever you eat.
Grilled Lemon Broccoli with Pistachio-Parmesan Sprinkles
Grilling broccoli transforms the humble vegetable into something nearly decadent. That's because the high heat draws out the delicious, caramelized flavors in the vegetable. A shower of parmesan and chopped pistachios complement the grilled broccoli's nutty notes, while parsley plus both lemon zest and juice bring a hit of freshness. But, what's perhaps best of all is that HexClad's grill pan broccoli allows you to get perfectly cooked florets without them falling through the grates. Hot tip: While the broccoli are tasty without blanching, if you have the time, a quick dip in a pot of boiling water (around 2 minutes) will make the stems perfectly tender.
Fried Chicken with Spicy Honey Butter
It's not summer without a great fried chicken. This version not only produces a classically crispy crust with super tender meat, the Sriracha-spiked butter takes each bite to the next level. To make the recipe, you can use HexClad's 7-quart chicken fryer or another similar sized pot. (If you have our 5-quart Dutch oven or 8-quart pot, those will work, too.) The key is to monitor the temperature of the oil, so grab your thermometer before beginning to cook.
This hot take on a cold side is perfect for backyard BBQs, potluck picnics, and casual dinner parties. Though the base ingredients—purple and green cabbage, carrots, and scallions—are standard in a slaw, the seasoning is anything but. You'll make a mustard and garlic-infused tahini dressing that highlights the vegetables' earthy flavors while bringing a hint of sweetness, and plenty of zing from ¼ cup of fresh lemon juice. Serve with the Fried Chicken with Spicy Honey Butter, with grilled sausages, or as a side for baked salmon. A great slaw calls for a great knife to get the super thin ribbons of cabbage and HexClad's Damascus-steel knives are up to the task.
Sugar Snap Pea, Corn, & Tomato Stir Fry with Ginger and Basil
This simple veg-focused stir fry makes the most of peak-summer vegetables in a HexClad wok. You'll start by cooking a base of aromatics—scallion, ginger, garlic, and jalapeño— before quickly stir-frying the peas, corn, and tomatoes. A generous serving of basil and a quick sauce (made from sesame oil, rice vinegar, and oyster sauce) ties the dish together. Make it a meal by adding cubed tofu, shrimp, or a fried egg. P.S. If you're vegetarian, opt for a mushroom-based oyster sauce.
What's summer without a peach dessert? This skillet cobbler buries peak-summer peaches in a vanilla-scented cobbler, perfect for topping with scoops of vanilla ice cream. There's no need for a cake pan—instead, you'll make use of HexClad's 12-inch skillet. Cobbler batter is cake-like. Though you'll spread it over the bottom of the skillet and top it with the peaches, don't be surprised if the baked batter rises to nearly cover all the fruit. Any stone fruit will work well here, like nectarines, apricots, and plums, so pick what's freshest and in season.