Host a Patriotic Party With the Perfect 4th of July Menu
by HexClad Cookware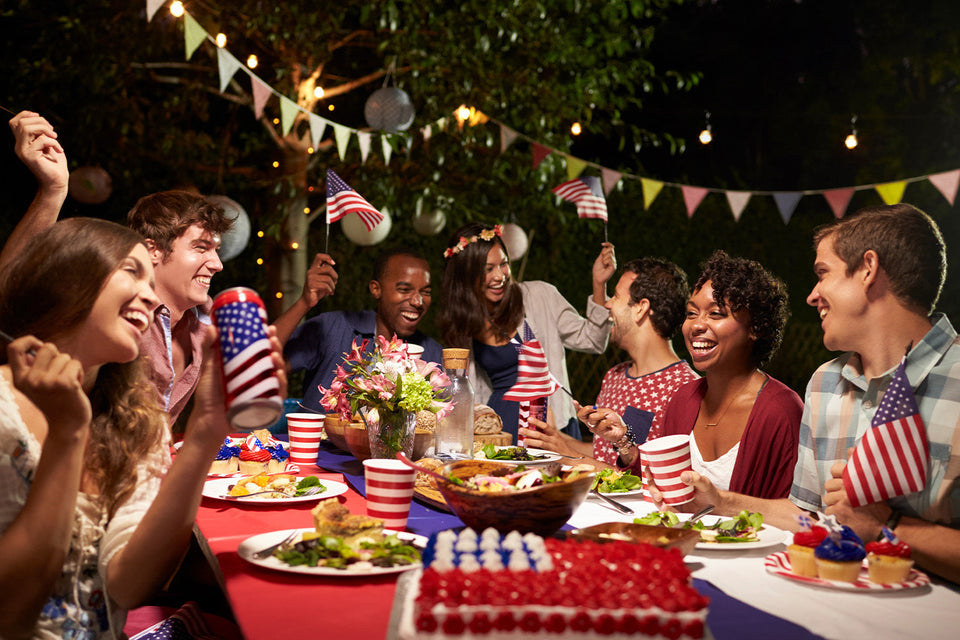 We love summer celebrations, and hosting a Fourth of July party can be a great time to gather with friends, watch the fireworks, and — of course — enjoy some delicious food. 
While hot dogs, hamburgers, and pasta salad are cookout classics, there are plenty of ways to switch it up and wow your friends. After all, traditions are meant to evolve, right?
So spice up your next Independence Day extravaganza with these fun and flavorful menu ideas from HexClad.
The Best Recipes To Try This 4th of July
If you're craving something a little different this year than the usual barbecue sauce-covered grilling recipes, these off-the-beaten-path July recipes will steal the show and wow your guests. Check them out below! 
Tagliata di Carne
We know many of your guests will come to the BBQ with meat patties in their minds, but this unexpected fourth-of-July dish won't disappoint. 
While Tagliata is a traditional Italian dish, you can give it some all-American flair by featuring New York Stip as the steak of choice. 
Tagliata translates to "cut" and refers to how the beef is served in thinly cut slices. Tagliata is traditionally served with a gremolata over a bed of cherry tomatoes and arugula. Although the beef is typically cooked rare or medium rare, use your own preference.
Just like you're putting a new spin on a classic holiday dinner, Chef Daniele Uditi's Tagliata recipe spices up the traditional dish by pairing the well-seasoned, boneless beef with Calabrian chile paste. This twist on a classic is sure to turn heads in the best way possible. 
All you'll need to sear your steak to perfection is a 10-inch HexClad skillet, a bit of oil, salt and pepper, and your cut of choice. Cooking for three to four minutes on each side over medium-high heat will brown the exterior of your steak to crispy perfection while the inside remains deliciously juicy. 
Just don't forget to let the steak rest for a few minutes before slicing to ensure the juices have time to redistribute. 
Then, you'll plate your finely cut meat with cherry tomatoes seared in the steak fat, arugula, and that chile gremolata for a burst of flavor the founding fathers could only dream of. 
This dish comes together and cleans up quickly. It is the perfect meal to entertain with a total cook time of only 25 minutes. Although tagliata di carne pairs well with red wine, a classic summer beer or sangria pitcher also works wonderfully. 
Honey-Glazed Pork Chops
This light, flavorful meal just screams summer, with notes of fruitiness brought on by the sweet honey and juicy pears. This is the kind of meal to enjoy with friends out in the yard. It's summery and satisfying — while also leaving a little room for dessert during the fireworks later on in the night. 
Chef Gary Nguyen's Honey Glazed Pork Chop recipe is a delectable mix of sweet and savory. You'll start by seasoning and marinating the pork to help it tenderize and soak in the flavor, and then sear over medium-high heat. 
Once both sides of the pork have reached a desirable golden-brown sear, you'll stir in the pears, onions, honey, and add a sprig of rosemary. 
Then, you'll transfer your HexClad pan to the oven for another fifteen minutes. Searing the pork chops before you pop them into the oven will help form the perfect exterior crust. This move helps ensure the inside remains juicy and tender after fully cooking through. 
Once the pork is ready, plate the honey-glazed pork chops over Spanish rice with the pear and onion mixture, along with more sauce.
And don't forget about apps and desserts. To continue the fruity theme, preface this dish with an appetizer of watermelon salad, serve with thirst-quenching peach lemonade (or sweet-and-salty margaritas), and make your own popsicles for dessert. Red, white, and blueberry, perhaps? 
Herb Maple-Glazed Chicken Legs
Another fan favorite from Chef Gary Nguyen, the Herb Maple Glazed Chicken Leg With Sautéed Cabbage and Onions, is sure to please your meat-loving party guests.
For this dish, you'll season your chicken legs with salt and oregano as the oven preheats. Then, bring a 10'' Hex Clad Pan to medium-high heat. Place your chicken legs in the pan with a clove of garlic and a sprig of time. 
The stainless steel peaks and nonstick valleys that are laser-etched into our pans will ensure your chicken reaches the ideal sear, drawing out complex flavor compounds without requiring an abundance of oil. 
After the chicken begins to brown and crisp, transfer to the oven for another twenty minutes. Our versatile hybrid technology is oven-safe up to 500 degrees, making moving the meat from stovetop to oven hassle-free. 
As the chicken leg bakes, combine chopped red onions, cabbage, garlic, and salt in a HexClad 12'' Wok and cook until all the veggies are evenly caramelized. Our hybrid woks are ideal for this cooking task, as the high, sloping walls can trap heat and help you toss and stir the veggies like a pro, ensuring all of the ingredients caramelize quickly and evenly.
Flat-bottomed woks can also hold more than traditionally rounded woks, making this the perfect tool for cooking for a group. This cabbage and onion-based side is like a fresh spin on your traditional July 4thcoleslaw and is sure to be a crowd pleaser. 
To further lean into the July theme, you can also incorporate potato salad or watermelon slices into the night for your guests to enjoy, along with their delightfully spiced and maple-glazed chicken legs. 
Sockeye Salmon With Summer Succotash
This bright and colorful Sockeye Salmon With Summer Succotash by Chef Gary Nguyen is the perfect meal for an elegant July 4th get-together. Pescatarian friendly and gluten-free, this dish will go over wonderfully with any friends who have dietary restrictions. 
Give your usual corn on the cob a fresh new look with succotash instead. This bright corn-based vegetable medley brings all of summer's freshest and best-tasting veggies to your plate. 
Along with onion, bell pepper, zucchini, and cavatelli beans, heirloom tomatoes add a bit of character to the summer succotash with their unique colors, funky shapes, juicy interior, and explosive flavor. 
We haven't even gotten started on the fresh and flavorful seared salmon fillets. 
Seasoned with cumin, coriander, black pepper, salt, garlic powder, and onion powder, the salmon is then seared to an irresistibly crispy golden brown in a 12'' inch Hexclad pan. It's topped with butter, smashed garlic, and rosemary for that extra special touch. 
Plated with succotash and garnished with shaved fennel and microgreens, this is a lighter holiday alternative that will still hit the spot. 
If you're going for a flag-themed meal, this colorful dish almost has it all with the red of the tomatoes and white of the shaved fennel. But, we won't stop you from incorporating blue into the mix with a pitcher of blueberry mojitos (along with a mint and blueberry lemonade for fun the whole family can get in on) or a blueberry cheesecake for dessert. In fact, we highly encourage it. 
Garlic Herb Chicken Thighs and Asparagus
This timeless dish comes together quickly and is easy to scale up, making it a great main dish for your patriotic party. 
Our rich butteryGarlic Herb Chicken and Asparagus is a classic mix of protein and veggies that will still bring big flavor for the big day. 
A 12" HexClad Hybrid Frying Pan will perfectly cook your chicken thighs. And, the best part? You can make the asparagus in the same pan. Simply slide your chicken to one side after it has nearly (but not wholly) cooked through, and then add your butter and asparagus to the other side before seasoning with salt and pepper to taste.
This not only makes clean-up a snap but also means the flavors from the seasoned chicken and asparagus have time to mingle as they finish cooking. Just let the chicken and asparagus cook together over medium-low heat. 
Garnish with freshly cracked black pepper and fresh herbs, and it is ready to serve.
With a meal that comes together this fast, you'll also have plenty of time to whip up a few classic July appetizers and side dishes or salad recipes, such as deviled eggs, cucumber andfeta salad, watermelonskewers, or baked beans. 
Or keep the appetizers simple with a cheese and cracker spread, chips and guacamole, or a tomato salad to let your chicken thighs and asparagus shine as the star of the show. One bite in, and your guests won't know what hit them.
Cream Corn Bacon Chicken
Peak corn season is from May to September, meaning you only have a few months to enjoy this summer veggie at its sweetest. If you want to make the most of corn season, you can't go without our Amazing Cream Corn Bacon Chicken Recipe this Fourth of July.
To make this delicious dish, you'll first rub the chicken with oil, season it, and coat it with flour until evenly covered. Cook the bacon over medium-high heat in a large skillet until crisp before draining them on paper towels. 
Don't forget to stop and smell the bacon as it wafts through your kitchen — this is a very important stop. 
Next, use the same pan to sear your chicken breasts or thighs on both sides until lightly golden, 
about five minutes per side. As the chicken cooks in your HexClad skillet, the remaining bacon fat will help flavor the chicken, and the flour will help create a delectable crispy crust on the exterior of your chicken.
When golden, remove the chicken from the pan and replace it with your onions and a tad more oil. Once fragrant, add in the butter, corn, garlic, and pepper flakes until the corn is golden. Again, using the same pan will allow flavors to meld as each portion cooks. 
You'll finish this one-pot meal by simmering the chicken with the veggies in wine until fully cooked, then stirring in heavy cream and parmesan. 
Once all of the ingredients are warmed through and fragrant, remove from heat and top with bacon, fresh thyme, and basil. This creamy dish can be served straight from the skillet. 
Filled with the flavors of summer, this dish is sure to be a hit. Bring it home with July desserts such as ice cream sandwiches, cream-cheese-frosting-topped brownies, or even a firecracker cake. 
It's America's Birthday. Bring Out Your Best Recipes.
Celebrate what we consider America's birthday in style this year by bringing something new to the table. These delicious and diverse recipes put a fresh new spin on the well-worn fourth-of-July menu classics such as grilled chicken wings, steak, corn, and slaw. 
These recipes not only taste amazing — but also come together quickly and easily in HexClad cookware, leaving you plenty of time to join in on the festivity fun, too. 
With signature hybrid technology, all of our pots and pans at HexClad are laser-etched to create our patented hexagon design. The peaks of the hexagon ridges are made of stainless steel to boost your searing power, while the valleys utilize a high-grade and non-toxic Japanese nonstick technology for easy, mess-free cooking. 
With a layer of aluminum sandwiched between stainless steel, including a layer of magnetic stainless steel, our cookware is durable, compatible with induction cooktops, and superior in fast and even heat retention.
With stay-cool handle technology that is oven and dishwasher-safe, cooking with HexClad is as convenient as can be, whether you're cooking for yourself or a crowd.
This July 4th, cook up these recipes for an evening of food that will delight your guests — those at the kid's table and adults' table alike. The fireworks may have to vie for their attention as they rave about your meal throughout the celebratory night. 
Sources:
Control of Maillard Reactions in Foods: Strategies and Chemical Mechanisms | ACS
When is Corn Season? | When Is the Season