8 Tips For Perfect Fried Chicken
by HexClad Cookware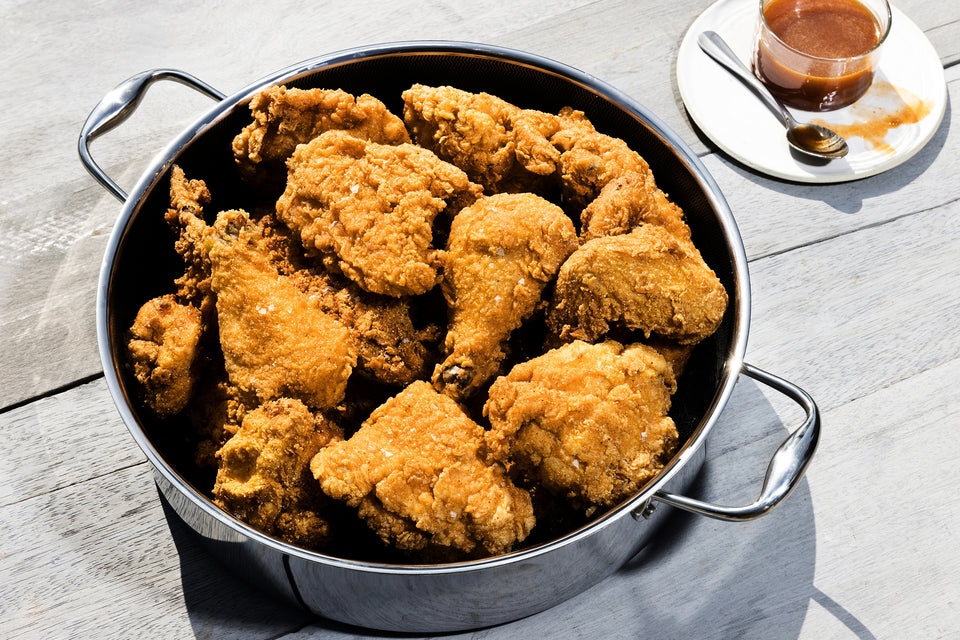 Some dishes are better at home than at a restaurant. Believe it or not, classic Southern-style fried chicken happens to be one of them. When you make fried chicken at home, you can eat it straight out of the fryer before the crispy crust becomes soggy with oil and while it's still hot. Plus, you can season the crust with the exact flavors you want. We're partial to our recipe for Fried Chicken with Spicy Honey Butter that uses a classic combination of fried chicken spices like cayenne, paprika, onion powder, and garlic powder, but if you prefer a different spice mixture, we won't blame you.
With HexClad's 7-quart chicken fryer, making fried great chicken at home is a must. Don't have a chicken fryer? No problem. You can also use your wok or even a large pot to make fried chicken. 
Using these 8 tips for perfect fried chicken will ensure the juiciest meat with the crispiest crust.
Use a marinade for the juiciest meat
Some classic fried chicken recipes will suggest a quick dip in a liquid like milk or buttermilk before dredging in seasoned flour. While that works, it doesn't infuse the meat with rich flavor, nor does the chicken turn out as succulent. A well-seasoned marinade keeps the chicken juicy when it cooks, since a long sit in salty liquid allows the meat to retain more moisture when cooked. A buttermilk-based marinade is standard for fried chicken. Add spices like cayenne, paprika, black pepper, garlic powder, dry mustard, or oregano.
Don't worry about shaking off the marinade before dredging
If some bits of liquid mix into the flour mixture, they'll only serve to make a better, craggier crust.
You don't need to use a ton of oil to get a perfectly crispy crust
The concept of deep frying might have you imagining a gigantic vat of hot, bubbling oil, but you'll only need about 1-inch of oil to fry the chicken. 
Make sure the oil is the correct temperature with a deep-fry or candy thermometer
If the oil is too hot, the crust will burn and the chicken will be undercooked. Too cool and the chicken will be overcooked and the crust will have absorbed too much oil. There's a simple fix for this: Use a deep-fry or candy thermometer to double-check the temperature stays the same as you fry. Between 325ºF and 350ºF (160ºC and 175ºC) is ideal for getting both tender meat and crispy crust.
Use an instant-read thermometer to check that the chicken's cooked
It might seem too obvious to mention, but there's nothing worse than breaking into the fried chicken you've worked hard to make and seeing that it's still pink inside. Keep an instant read thermometer at the ready to probe pieces of chicken, rather than relying on the recipe's suggested timing alone. 165ºF (74ºC) is a safe bet for internal temperature.
To serve a crowd, turn on your oven
Cooking the chicken in batches means that some of the fried pieces will cool down while you finish frying. If you want to serve everyone all at once, turn your oven on to 200ºF (90ºC). Place the cooked chicken pieces on a wire rack set inside a rimmed baking sheet and keep warm in the oven.
For the most decadent crust, double fry
Though a single dip in the oil is enough to create a crunchy crust on your fried chicken, you can fry it a second time to achieve ultra-crispy perfection.
Skip the conventional wisdom that you need to break down a whole chicken to do it right
Sure, it's traditional to make fried chicken from an entire chicken, throwing the breast, thigh, drumstick, and wings all into the marinade. But it's pretty annoying to fight over the two drumsticks, right? Instead, opt for a packet of just drumsticks or bone-in chicken thighs, so everyone can get what they want. (If you're more of a white meat person, do the same thing, just with bone-in chicken breasts.)
Though it's not essential for the crispiest fried chicken, you'll be happy to have a pair of tongs on hand for safely removing chicken from the hot oil (or a wire-mesh, long-handled spider). 
P.S. Though oven-fried chicken can approximate some of the delicious qualities of classic Southern fried chicken, some of the tips above aren't relevant. It is, however, still wise to use a marinade for juicy meat and it's always a good idea to buy the chicken parts you want to eat.