9 Ideas For Making The Most Of Leftover Thanksgiving Turkey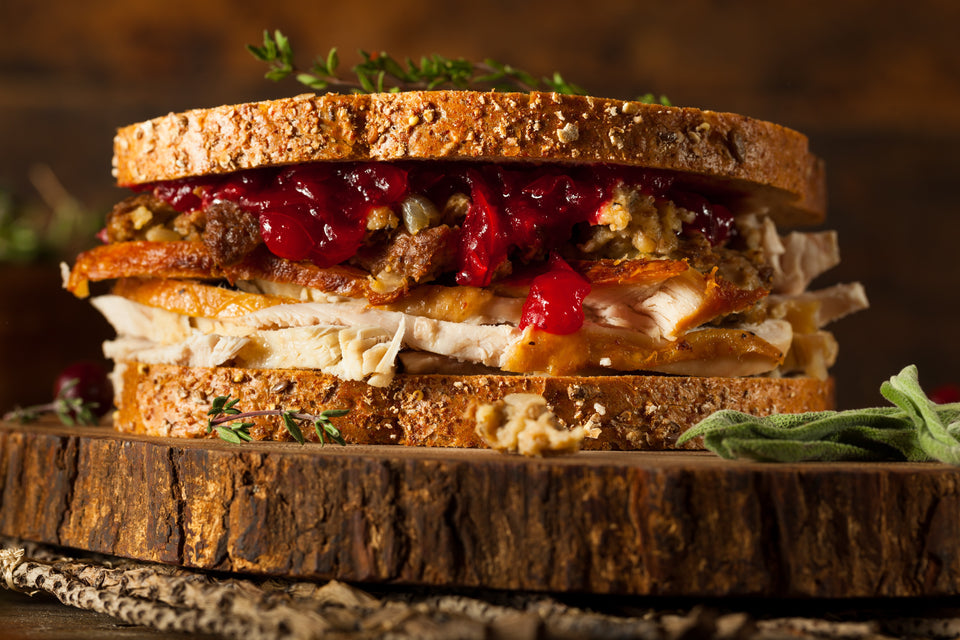 Thanksgiving has come and gone, and now you've got a fridge full of leftovers, ample turkey meat, and a carcass for making stock, to boot. Rather than plating up Thanksgiving dinner round 2 (and 3 and 4…) until the leftovers are gone, we suggest tucking the turkey meat into other dishes to keep things exciting. The possibilities for leftover turkey are endless: a towering Thanksgiving leftover sandwich and creamy turkey pot pie are just a couple of the ways you can rethink leftover turkey.
Refrigerate leftover turkey in an airtight container for up to 4 days or freeze for up to 3 months.
Here are 9 ideas for using up your leftover Thanksgiving turkey:
Turkey tetrazzini:

This turkey pasta casserole might just be peak cozy. You'll stir leftover turkey together with pasta, mushrooms, and a creamy sauce. In

Allrecipes's rendition

of the classic dish, you'll shortcut the sauce with a can of cream of mushroom soup and add a generous dusting of Parmesan on top to make a craveable crust. 

Turkey pot pie:

If you have the will to whip up a batch of pie crust after the marathon kitchen sesh for Thanksgiving, then turkey pot pie is an excellent pick for your turkey leftovers. (Or, opt for store bought crust to save yourself the trouble.) 

Delish's recipe for turkey pot pie

is straightforward and can be made in your

HexClad 10-inch pan

or in a pie plate.

Turkey grilled cheese:

A recipe is hardly necessary for tucking leftover turkey into your grilled cheese. Opt for your favorite melting cheeses (a strong one like gruyere is a good option, here), or a blend. If you want to take things up a notch, try

Serious Eats's Thanksgiving Turkey Reuben Sandwich

, which swaps the traditional corned beef for turkey.

Thanksgiving pizza:

Of course, you

can

pile all your leftovers on pizza dough, but why? Instead, be selective in the toppings you pair with leftover turkey. Top pizza dough with gravy, a thin layer of leftover mashed potatoes, and shredded leftover turkey. Top with rounds of fresh mozzarella and bake in a 550º F oven until the crust is cooked through and top with dollops of cranberry sauce, and finely chopped fresh parsley.

A turkey sandwich to remember:

Leftover enthusiasts have been layering leftovers between bread for years. Now, there are recipes to guide you toward making the ultimate stack.

The New York Times's Best Thanksgiving Leftovers Sandwich

features a cranberry mayo and re-crisped stuffing for a divine . Of course, we won't blame you for going for a classic cheddar, turkey, mayo, and lettuce combo.

Chicken alfredo pasta, but with turkey:

Honestly, chicken alfredo pasta might be even better with pieces of dark turkey meat folded into the luxurious creamy sauce. While you're waiting for the noodles to cook, read up on

the fascinating history of alfredo sauce

.

Turkey noodle soup:

After making a

deeply flavorful stock with your turkey carcass

, transform the meat into a delicious noodle soup. Swap turkey in for chicken in your favorite chicken noodle soup recipe. Or, if you don't have one, try

this recipe from The Kitchn

. 

Turkey chili:

Most recipes for turkey chili call for ground turkey, which isn't much use when you've got a glut of cooked leftovers. Instead, take a cue from white chicken chili and swap in the cooked turkey, instead. This recipe for

white chicken chili from Epicurious

is a good template for some fresh flavors.

Turkey tacos:

A toasted corn tortilla is a better home for your leftover turkey than many. Crisp up shredded leftover turkey in a few tablespoons of oil. Tuck into the tortillas with a dollop of guacamole, crumbled cotija, and a spoonful of pico de gallo.
Bonus carcass recipe: Rather than making stock, use your carcass to make Bon Appétit's Turkey Congee With Crispy Shiitake Mushrooms. This Chinese rice porridge is often eaten for breakfast, but we won't blame you if you want to have it for breakfast, lunch, and dinner.
P.S. If you're wondering whether dogs can eat turkey, here's the DL: While dogs can eat cooked turkey in small portions, the leftover bird isn't good for it. That's because salt and other seasonings aren't good for your pup. If you're willing to go the distance, cook a little plain turkey for fido to enjoy alongside the family.