The Best Pumpkin Ideas For Fall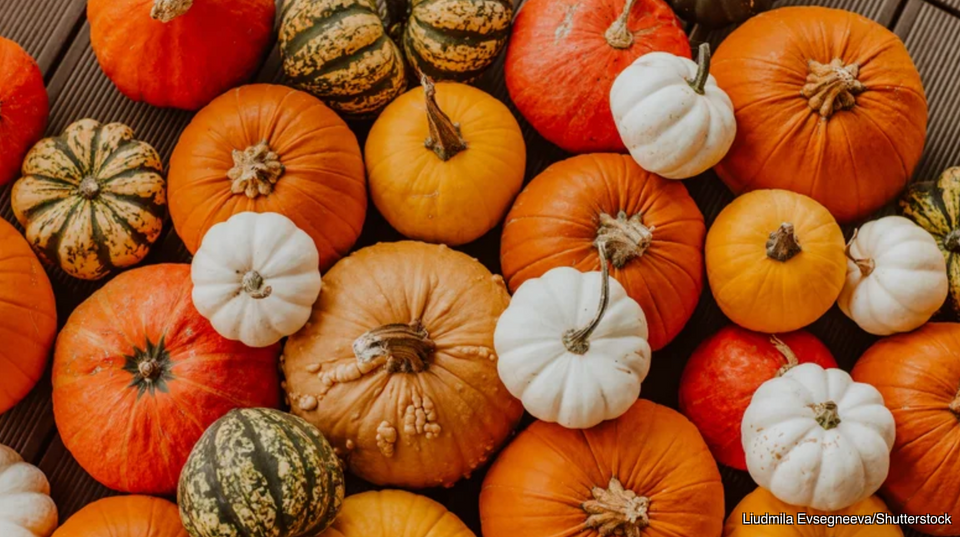 Fall is nearly synonymous with pumpkin, and for good reason. Belonging to the Cucurbitaceae, or the gourd family, pumpkins are a type of winter squash that thrives in the cooler temperatures and shorter days of autumn. Beloved in both sweet and savory dishes, pumpkin is good for more than the annual Thanksgiving pie. Canned pumpkin puree has a generous shelf life, making it an ideal pantry staple for the fall and winter months, but fresh pumpkins are worth trying, too.
Sugar pumpkins—the round, bright orange kind that probably comes to mind when you think of a pumpkin—are very popular, and for good reason. They have tender flesh and a rich, sweet flavor that's ideal in both savory and sweet preparations. It's worth trying other varieties of winter squash in recipes that call for pumpkin, like kabocha squash, cinderella, or cheese pumpkins.
What are the health benefits of eating pumpkin?
Pumpkin isn't just the quintessential fall ingredient, it's packed with nutrients like beta-carotene (an antioxidant that is converted to vitamin A by the body), vitamin C, potassium, and fiber. Their edible seeds are a fantastic source of zinc and protein, so combining them in dishes like pumpkin soup or a grain bowl is not just delicious health-promoting. Look for raw, hulled pumpkin seeds (also called pepitas) at the store, which have the hard, white shell removed.
What flavors pair well with pumpkin?
If you've ever had a pumpkin pie, then you're likely aware that warm spices like cinnamon, nutmeg, ginger, and allspice pair well with this winter squash. Ingredients like maple syrup, brown sugar, and vanilla enhance pumpkin's natural sweetness. But, you may be surprised to hear that savory herbs like thyme, sage, and rosemary add depth to pumpkin dishes like risotto or soups, while fresh and dried chilis are a match made in heaven for pumpkin curries and stews.
4 savory pumpkin recipe ideas
Cooking with pumpkin isn't just about pies and pumpkin spice syrup. In fact, pumpkin's rich flavor and creamy texture make it ideal for a variety of savory dishes.
Spiced Pumpkin Soup:

Transforming pumpkin into a silky soup is so easy you don't need a recipe. Start by sautéing onions and carrots with garlic and spices (anything from nutmeg to chili flakes will taste great here), then add broth and chopped, fresh pumpkin. Simmer until tender, then puree and stir in heavy cream. Or, for a dairy-free version, add coconut milk along with the broth and chopped pumpkin, then add a swirl of coconut cream for garnish. Top with toasted pumpkin seeds.
Pumpkin Risotto:

Pumpkin adds velvety texture and a hint of sweetness to the classic Italian dish. We like

The New York Times' straightforward recipe

, which features a classic risotto, upgraded with 1 cup of pumpkin puree. Take it up a notch by topping each bowl with fried fresh sage leaves and a drizzle of pumpkin seed oil.

Pumpkin Pesto Stuffed Pasta Shells:

HexClad's recipe for

jumbo stuffed shells with pumpkin and pesto

features a sausage-studded pumpkin sauce and a fontina and ricotta filling. Pumpkin adds a sweetness that contrasts the herby pesto and two cheeses.

Turkey Pumpkin and Black Bean Chili:

Upgrade your pot of fall chili with chunks of pumpkin, which marry perfectly with southwestern flavors in

The Modern Proper's recipe for turkey pumpkin chili

.
3 sweet pumpkin recipe ideas that go beyond pumpkin pie
Pumpkin spice lattes and pumpkin pie and pumpkin cheesecake are standard fare in the fall now. These 3 sweet treats featuring pumpkin go beyond the expected.
Fluffy Pumpkin Pancakes:

Weekend pancakes are so much better with a cup of pumpkin puree added to the batter. HexClad's recipe for

Pumpkin Pancakes with Whipped Cream and Maple Syrup

uses all the best warming spices to infuse your pumpkin pancake stacks with fall flavor.
Pumpkin Bread Pudding:

Whisking pumpkin puree into the custard for bread pudding transforms the dish into a treat that is welcome at brunch or for dessert. It would make a great Thanksgiving day breakfast for those who like a sweet start. Check out Delish's recipe for

Pumpkin Bread Pudding

.
Pumpkin Coffee Cake:
The best coffee cake is moist and rich, and pumpkin is up to the task of upgrading the brunch staple. In Stella Parks's recipe for
Pumpkin Skillet Coffee Cake With Streusel Topping on Serious Eats
, she bakes a pumpkin-infused coffee cake in a skillet and tops it off with a pecan and oat streusel. It seems perfect for baking in your
12" HexClad pan
, wouldn't you say?