Vegetable Pasta with Broccoli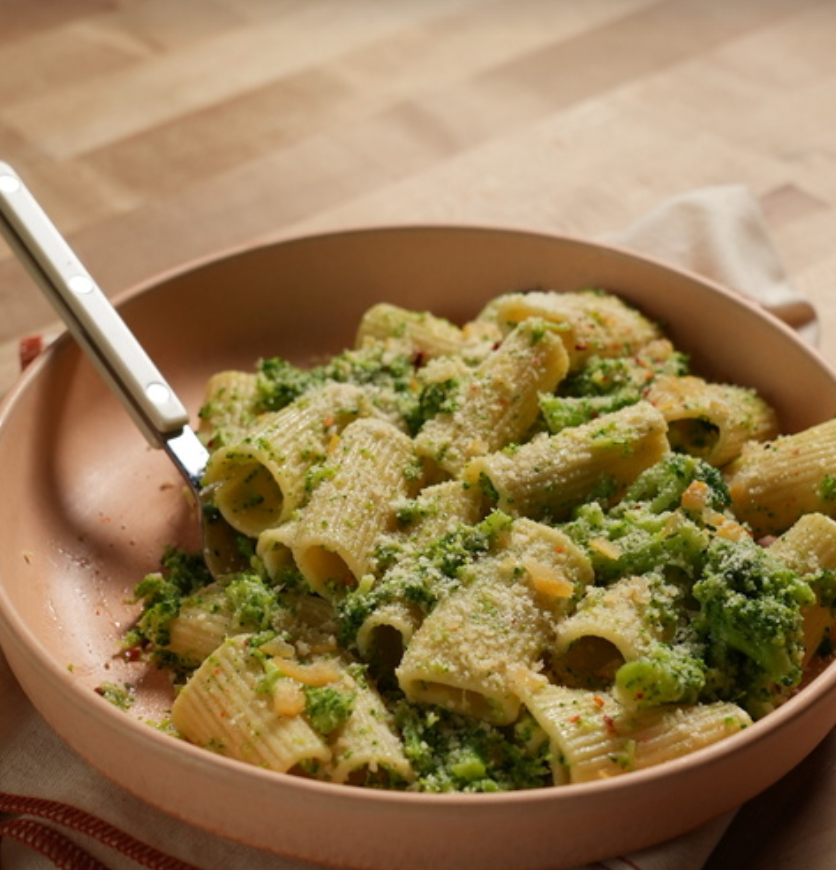 Preparation
Bring a large pot of salted water to a boil over high heat. Add 1 lb [455 g] dried rigatoni or spaghetti and cook until al dente, per the package directions. Reserve 1 cup [240 ml] pasta water and drain.
Meanwhile, bring another large saucepan or Dutch oven filled with salted water to a rolling boil over high heat. Add 1 lb [455 g] broccoli florets, cut into bite-size pieces. Boil until tender, 3 to 5 minutes. Transfer to a medium bowl with a slotted spoon and discard the cooking water.
In the same saucepan you used to cook the broccoli, warm ¼ cup [60 ml] extra-virgin olive oil over medium heat. When the oil is hot, add 2 Tbsp white or yellow miso paste; 2 garlic cloves, grated; 1 Tbsp coarsely ground black pepper; and 1 tsp red pepper flakes such as Aleppo, Maras, or Urfa. Sauté until fragrant, 30 to 45 seconds. Fold in the cooked broccoli. Taste and season with fine sea salt.
Quickly fold in the hot cooked rigatoni and 1 cup [60 g] grated Parmesan. Add ¼ cup [60 ml] reserved pasta water, 1 Tbsp more at a time as needed, and stir to create a glossy coating. A large portion of the broccoli will fall apart to form the sauce. Garnish with 2 Tbsp chopped preserved lemon peel, rinsed and drained. Serve immediately. Leftovers can be stored in an airtight container in the refrigerator for up to 3 days.