Vegetable Kabob with Aleppo-Lemon Butter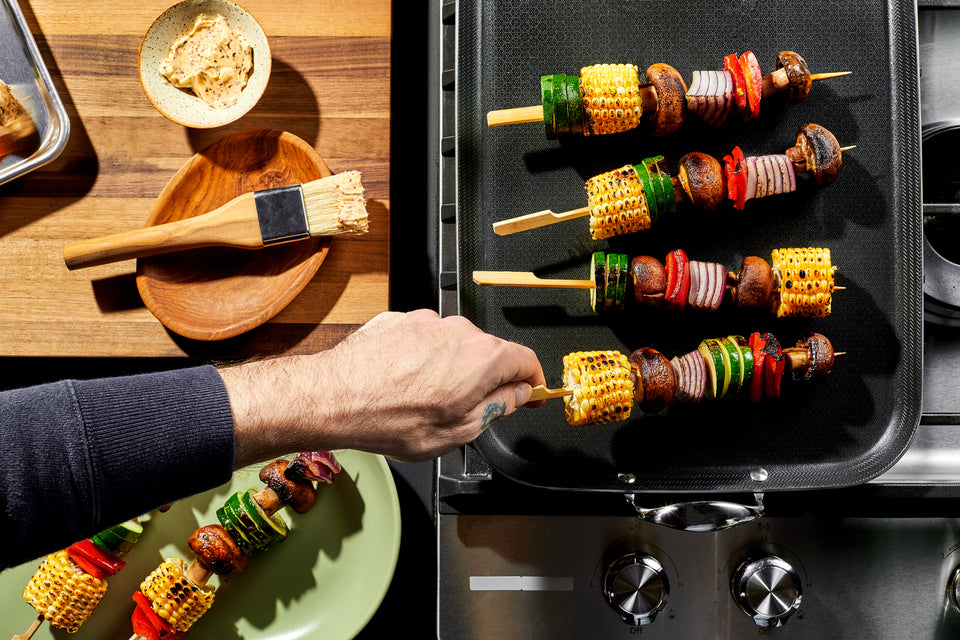 Time to complete
30 Minutes
Preparation
Combine butter and aleppo in a 5 QT HexClad Saucepan. Place over medium heat and cook, stirring occasionally, until the butter is melted and butter turns red. Remove from the heat and whisk in lemon juice and zest. Season with salt and keep warm.
Meanwhile, alternate threading corn, zucchini, mushroom, bell pepper, onion, and mushrooms pieces onto 10-inch skewers. Brush skewers all over with half of the oil and season with salt and pepper. 
Heat the HexClad Hybrid Double Burner Griddle over medium-high. Add vegetables skewers and cook, turning the skewers frequently and basting the vegetables with remaining oil halfway through, until vegetables are lightly charred and tender, about 15 minutes.
Brush skewers, turning to coat all over, with butter, and cook 1 minute more. Remove from the heat and serve topped with more aleppo pepper and fresh cilantro.