Vegan Big Batch Cooking Ideas For Breakfast, Lunch, And Dinner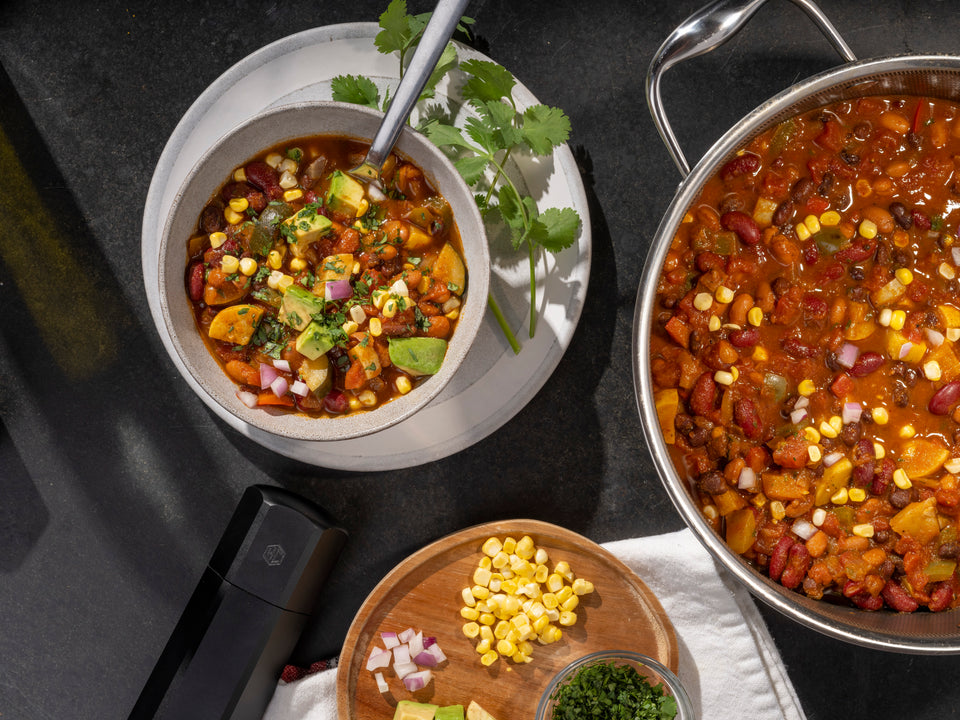 If you're new to vegan eating, you've probably found out quickly that it requires planning and prep. And if you've been eating vegan for a long time, then you're likely running low on recipe ideas or sick of the same-old processed staples. Vegan batch cooking is here to make your life easier, whether you're layering your first vegan lasagna or a pro at aquafaba meringues.
These clever ideas will make vegan cooking so much easier
Make big-batch vegan chili (and bonus frito pie)
Okay, so making chili is far from an original idea for vegan big batch cooking, but the key is not just the chili, but what you do with it. First, pick your favorite vegan chili recipe (we like this vegan chili recipe from Epicurious) and grab your biggest pot. Eat a bowl or two topped with your favorite chili fixins like avocado, pickled jalapeños, scallions, cilantro, and tortilla chips. (If you like vegan sour cream or cheddar-style vegan cheese, they won't go amiss.) Turn leftovers into Frito pie. Ladle the hot chili into a bag of Fritos and top accordingly.
Go sweet for breakfast
So many of the classic breakfast dishes that come to mind feature animal ingredients, but that doesn't mean you have to lose out when eating vegan. While oatmeal is ia great vegan breakfast staple, it can get a bit old. Sweet foods, in particular, do well when vegan and big batch. Crumble for breakfast? Yes, please. Here are some ideas for sweet big batch vegan breakfasts:
Vegan overnight oats:

Thankfully, overnight oats last longer than just one night in the fridge. Assemble jars of overnight oats at the beginning of the week so you can save time in the mornings. This recipe for

Blueberry Pie Overnight Oats from The Kitchn

features a "pie crust" topping, yes please.

Vegan breakfast crisp:

Fruit crisps aren't just for dessert. In fact, they're kind of ideal for breakfast (thanks to the oat-and-nut-packed topping and healthy fruit filling.

The Minimalist Baker's recipe for The Best Vegan Apple Crisp

is not too sweet, and if you're cooking gluten-free

and

vegan, the topping is suitable for you, too.. Add a dollop of coconut yogurt if you want to enhance the breakfast vibes.

Vegan banana bread:

It's a classic for a reason. Banana bread is the perfect way to start the day, and thanks to the moisture provided by bananas, you won't even miss the eggs. To make it slightly more filling, top your morning slice with peanut or almond butter.
Simmer up a batch of vegan tofu tikka masala
There's no need to give up the rich and delicious flavors of Indian dishes just because you're vegan. In fact, coconut milk is a fantastic staple of many Indian dishes. Instead of chicken, paneer, or other animal staples, use tofu instead, which soaks up the flavorful, spiced sauce. This recipe from Ambitious Kitchen for Vegan Slow Cooker Tofu Tikka Masala adds veggies to the mix, making for a healthful, well-rounded riff for your meal prep. Make a big batch of brown rice to serve alongside.
Elevate the loaded baked potato
A baked potato is potentially the ideal comfort food dinner, and it lends itself well to vegan big batch cooking. Bake a few russet potatoes in the oven, then reheat and top as you like—they'll last for 4 days in the refrigerator (or freeze for up to 3 months). Here are some ideas for elevating the baked potato to your ideal vegan dinner.
Vegan twice-baked potatoes:

Transform the insides of the humbled baked potato into a creamy delight with nondairy milk and vegan butter. This recipe for

Vegan Twice-Baked Potatoes from The New York Times

is a good starter. 

Triple-green loaded potato:

Top your baked potato with chopped avocado, steamed kale, and thinly sliced scallions. Drizzle with a miso dressing, like this one from

Love and Lemons

.

Umami extravaganza baked potatoes:

Umami is one of the predominant flavors in meat, but you don't have to miss out on it just because you're vegan. Layer your baked potato with sautéed mushrooms, baked beans, and a sprinkling of nutritional yeast.
For more inspiration, check out Joanne Molinaro's tips for Korean vegan cooking. Her spicy Tteokbokki Mafaldine is ideal for weeknights. Good luck saving any leftovers for your meal prep!