These Cozy One-Pot Meal Ideas Will Keep You Warm All Winter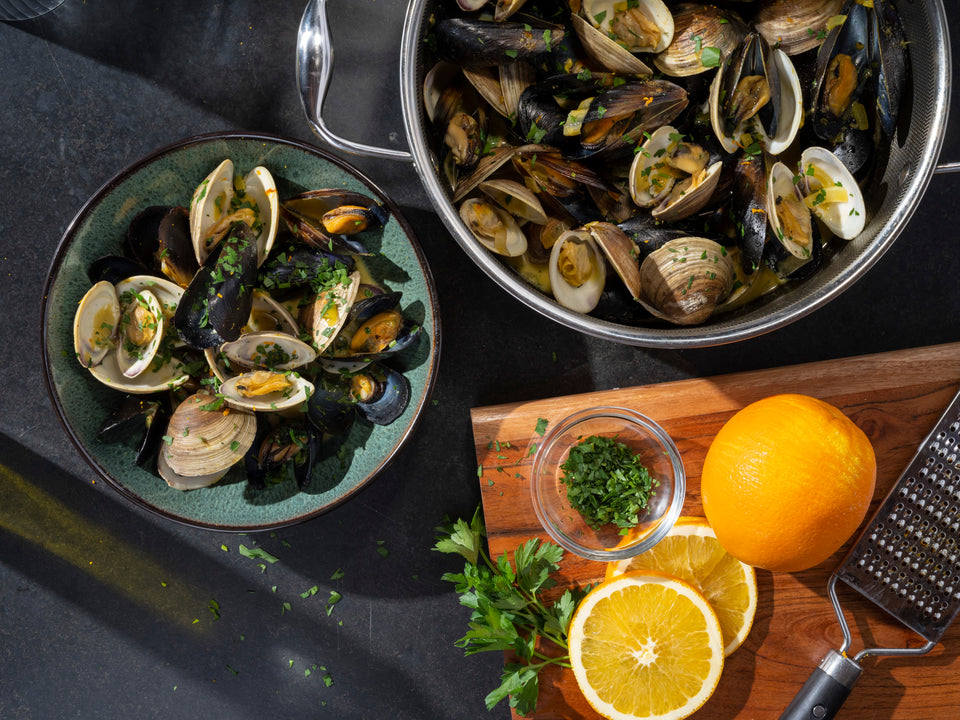 There's something about cold winter weather that lends itself to one-pot meals. Though we often have more time to cook on the short, dark days of winter, when it comes to the ideal cold-weather meal, cozy one pot meals tend to fit the bill. So what are you waiting for? Grab your Dutch oven (or your 8-quart pot or 12-inch skillet) and start cooking. The best one-pot meals are ones that suit your needs, so whether you're looking for easy one-pot meals, vegetarian one-pot meals or gluten-free one-pot meals, we've got you covered for ideas. And of course, one-pot pasta is a classic, so we've got some ideas for that, too.
What is a one-pot meal?
Though the dream of a one-pot meal recipe that you use just one single dish (be it a skillet, Dutch oven, or large pot), it's worth giving the concept a tiny bit of leeway. Of course, a cutting board, knives, and other implements like spatulas, whisks, or measuring cups and spoons are not included when it comes to a one-pot meal. But, whether a one-pot meal includes bowls, sheet pans, and other small pans depends. Some people envision a one-pot meal as simply requiring their Dutch oven, skillet, or largest pot. Others conceptualize the one-pot meal to speak more to the serving vessel, and don't mind stirring together another thing or two on the side. 
The great news is: HexClad pans are dishwasher safe, which means that clean up is much easier whether or not you're cooking a one-pan meal.
One-pot dinner ideas that are great for winter cooking
Wintery Vegetarian One-Pot Dinners
Vegetarian cooking lends itself to long braises, stews, and healthy soups that all come together in one pot. Whether it's a butternut squash soup blended in the pot with your immersion blender, a coconut-chickpea curry topped with a shower of cilantro, or a veggie chili, the one-pot dish is a vegetarian's friend. If you have an Instant Pot, try out this Instant Pot Mushroom and Potato Paprikash from The New York Times, or break out your biggest pot for a batch of Lentil Stew With Wheat Berries and Kale from Epicurious. Winter squash (like pumpkin, butternut squash, and kabocha squash) lend themself to healthy one-pot vegetarian meals. Bulk up vegetable soups with grains and beans, and save parmesan rinds to stir into veggie broth for extra flavor. If you're looking for one-pot vegan dinners, why not try EatingWell's One-Pot Coconut Milk Curry with Chickpeas?
Wintery One-Pot Pasta Dinners
Perhaps no other food is more synonymous with coziness than pasta, and thankfully, the comfort food staple lends itself to cooking in a single pot. Of course, you can create an unbelievably easy one-pot pasta dinner by stirring a jar of marinara sauce into cooked noodles. Bulk it up with cooked sausage or rotisserie chicken, leftover roasted veggies, and flavor-boosters like chopped olives, capers, or marinated mushrooms. Or, if you prefer to follow a recipe, Real Simple's Cheesy One-Pot Pasta or The Kitchn's One-Pan Eggplant Parm Gnocchi are delicious picks. Of course, you can always add pasta to a one-pot soup or stew: just keep a packet of frozen cheese tortellini or gnocchi in your freezer for stirring into soups. 
One-Pot Chicken Dinners For Winter
The one-pot chicken dinner might be the quintessential one-pot meal. Here's an easy way to make a customizable, one-pot winter chicken meal: Season 8 bone-in, skin-on chicken thighs with salt and pepper. Sear in 1 tablespoon olive oil in a Dutch oven, 8-quart pot, or 12-inch skillet over medium-high heat until golden-brown and crispy. Transfer to a plate, leaving any fat behind. To the pan, add 4 to 6 cups chopped veggies of your choice and toss in the fat. Season with salt and pepper, then top with the chicken thighs, skin-side up, and bake in a 375ºF oven until the veggies are tender and the chicken is cooked through. Or, check out The Kitchn's recipe for Arroz Con Pollo or Delish's One-Pan Creamy Chicken & Gnocchi, both of which happen to be gluten-free if you're looking for gluten-free one-pot meals.
P.S. If you're looking for more ways to put your Dutch oven to use, check out The 4 Dishes You Should Make In A Dutch Oven.