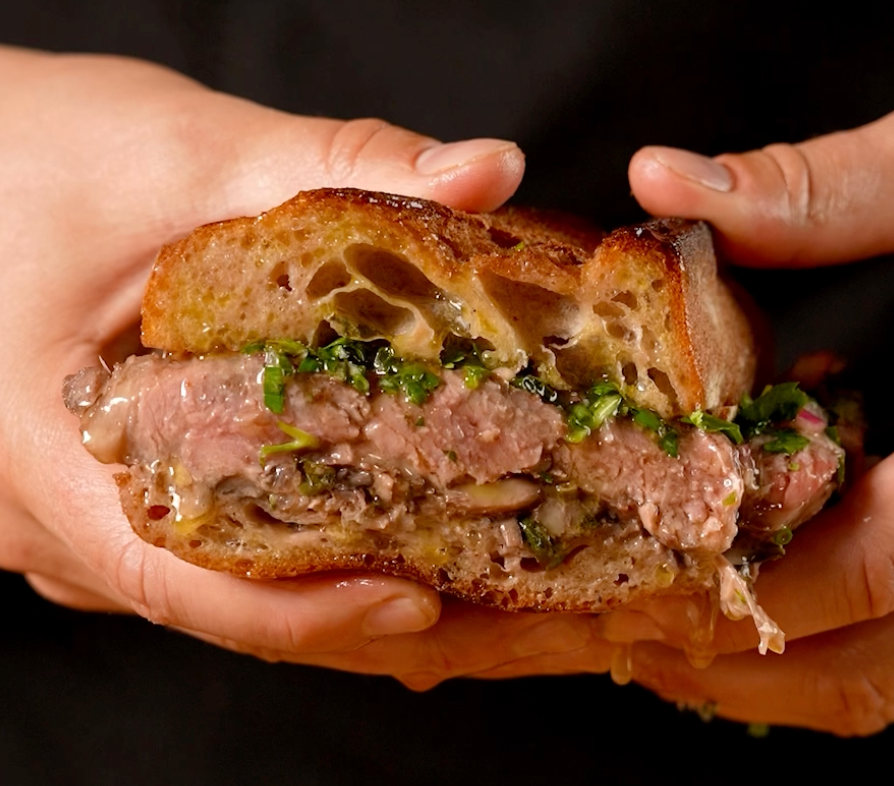 Serving size
4 Sandwhiches
Preparation
Prep the steak, place steak on a wire rack set over a rimmed baking sheet. Season all over generously with flaky sea salt. Let sit at room temperature for 1 hour.
Meanwhile, make the chimichurri, stir all chimichurri ingredients together in a medium bowl and season with salt. Cover and refrigerate until ready to use. 
Meanwhile make the mushrooms, heat a 12" Hybrid Hexclad Pan over medium high. Add oil, butter, and mushrooms and cook, tossing occasionally, until mushrooms just start to brown, about 4 minutes. Add onion and garlic and season with salt and pepper. Cook, stirring occasionally, until everything is light golden and tender, about 5 minutes more.
Pour wine into pan and boil until the wine is almost reduced, about 3 minutes. Add beef broth and boil, stirring occasionally, until sauce is thickened, about 4 minutes more. 
Pour in heavy cream and return to a boil. Reduce heat to low and gently simmer until mushrooms are tender and sauce is thickened, about 15 minutes. Remove the pan from the heat and stir in the parsley and chives. Scrape mushroom mixture into a bowl, cover, and keep warm.
Cook the steak, wipe pan clean with paper towels and return to medium-high heat. Pat dry with paper towels. Add oil and swirl to coat bottom of pan. Add seasoned steak and cook, undisturbed until a golden crust forms on the bottom side, about 4 minutes. 
Using tongs turn steak on the side and hold it so the fat cap makes contact with the bottom of the pan, let sit until golden, about 30 seconds. Flip steak and cook undisturbed for 1 minute. Add butter, thyme, and garlic, and baste steak, until a thermometer inserted into the thickest part of the steak reads 130º, about 3 minutes more. Remove the steak to a cutting board and let rest 10 minutes.
Make the sandwich, preheat oven to broil with a rack in the upper third. Arrange baguette pieces cut side up on a baking sheet. Broil until lightly toasted, about 2 minutes. 
Remove baking sheet from oven. Top bottom halves with mushrooms, parmesan, chives, sliced steak, a sprinkle of sea salt, and a large spoonful of chimichurri. Close the sandwich with the top half.