Spicy Pepperoni Griddle Pizza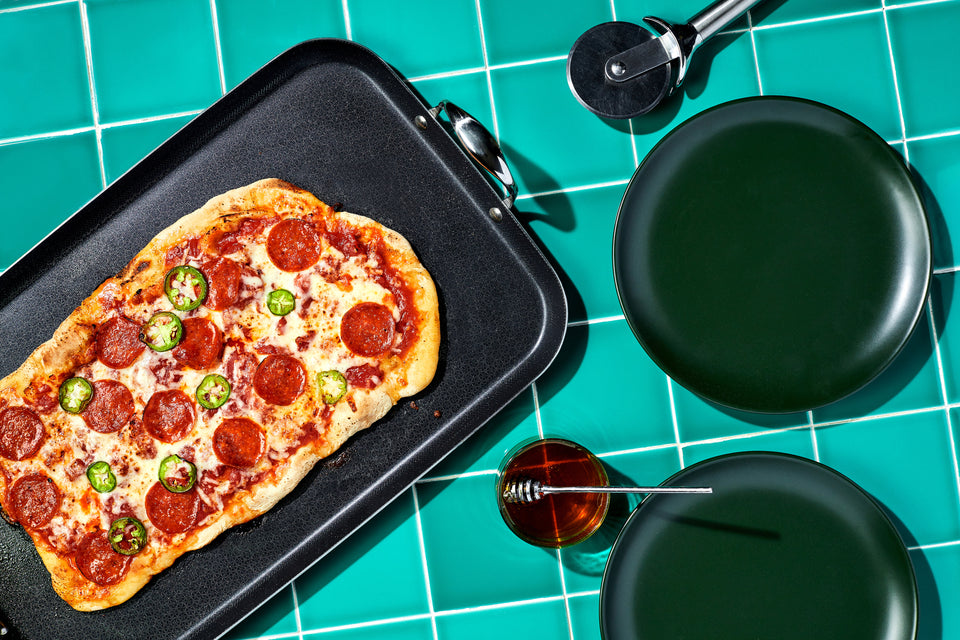 Time to complete
1 Hour 15 Minutes
Preparation
Pour whole peeled tomatoes and their juices into a colander set over a bowl and let excess tomato juice drain; reserve tomato juice for another use.
Transfer drained tomatoes to a medium bowl and crush into small pieces, using clean hands or a potato masher. Stir oil, garlic, and 1/2 teaspoon salt into tomatoes. Let sit at least 30 minutes before using or up to overnight covered in the refrigerator. 
Meanwhile, preheat the oven to 450° with a rack in the lower third.
Divide the pizza dough in half. Wrap one half in plastic and set aside. On a lightly floured work surface, gently stretch or roll the other half of the dough into a 17-by-8-inch oval and place it on the back of a lightly floured rimmed baking sheet. If the dough springs back at any time, let it rest for about 5 minutes and then try again.
Heat the HexClad Hybrid Double Burner Griddle over high for 2 minutes. Slide the pizza onto the griddle and cook, until puffed and golden on the bottom side, about 2 minutes. Flip and cook 1 minute more.
Turn off the heat and spread half of the tomato sauce over the top of the pizza, leaving a half-inch border of dough uncovered. Sprinkle with half each of the mozzarella cheese, pepperoni, and jalapeño. 
Transfer the griddle with the pizza on it to the oven. Bake until the crust is well-browned and the cheese is bubbling and browned in spots, 7 to 10 minutes. Remove from the oven and slide pizza onto a work surface. Tear basil leaves over top, drizzle with honey, and slice and serve warm. Repeat with remaining dough and toppings.