Sockeye Salmon with Summer Succotash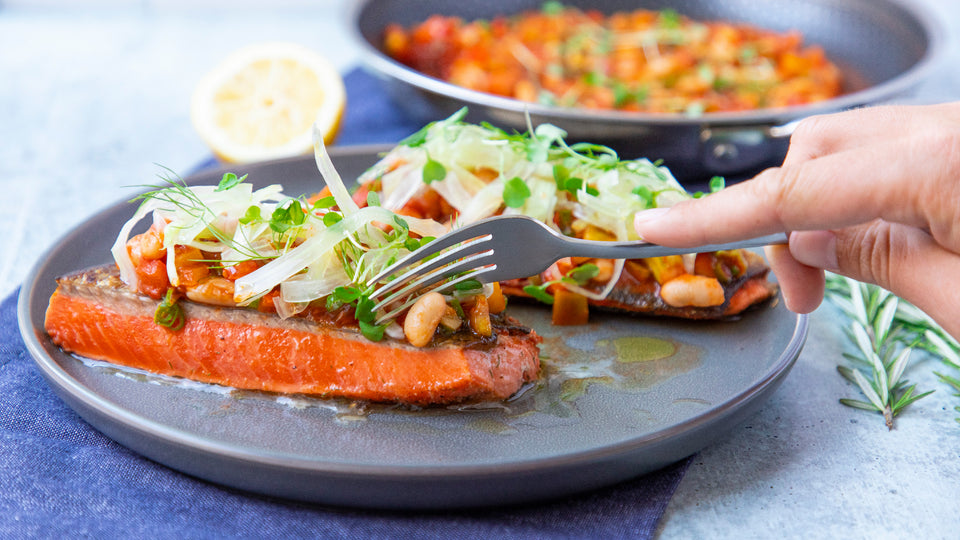 Preparation
 Directions:
In a medium bowl, combine the fennel, lemon juice, and ¼ teaspoon salt. Massage well with your hands until the fennel is coated; set aside.

In a small bowl, combine the coriander, cumin, garlic powder, onion powder, black pepper, and remaining 1 teaspoon salt. Place the salmon on a baking sheet and season all over with the spice mixture. Refrigerate, uncovered, for 30 minutes.

Heat a 12-inch (30 cm) HexClad pan over medium heat. Add 1 tablespoon oil and once heated, add the yellow and red bell peppers and onion. Season with salt and cook, stirring occasionally, for 2 to 3 minutes. Stir in the zucchini and 1 tablespoon of the butter. Cook, stirring occasionally, for 2 to 3 minutes, then stir in the tomato sauce, beans, heirloom tomato, and green onion. Transfer to a bowl and cover to keep warm while you cook the salmon.

Wipe out the skillet and return to medium-high heat. Add the remaining 2 tablespoons oil and once shimmering, add the salmon fillets skin-side down. Cook without disturbing for 4 to 5 minutes, then add the garlic, rosemary, and remaining 1 tablespoon butter. Use a spoon to baste the salmon with the butter. When the skin is golden-brown, carefully flip the salmon and cook for 2 to 3 minutes more, or until desired doneness.

Serve the salmon skin-side up, topped with the bean mixture and fennel salad. Garnish with microgreens and dill.