Nashville Hot Cod Sandwich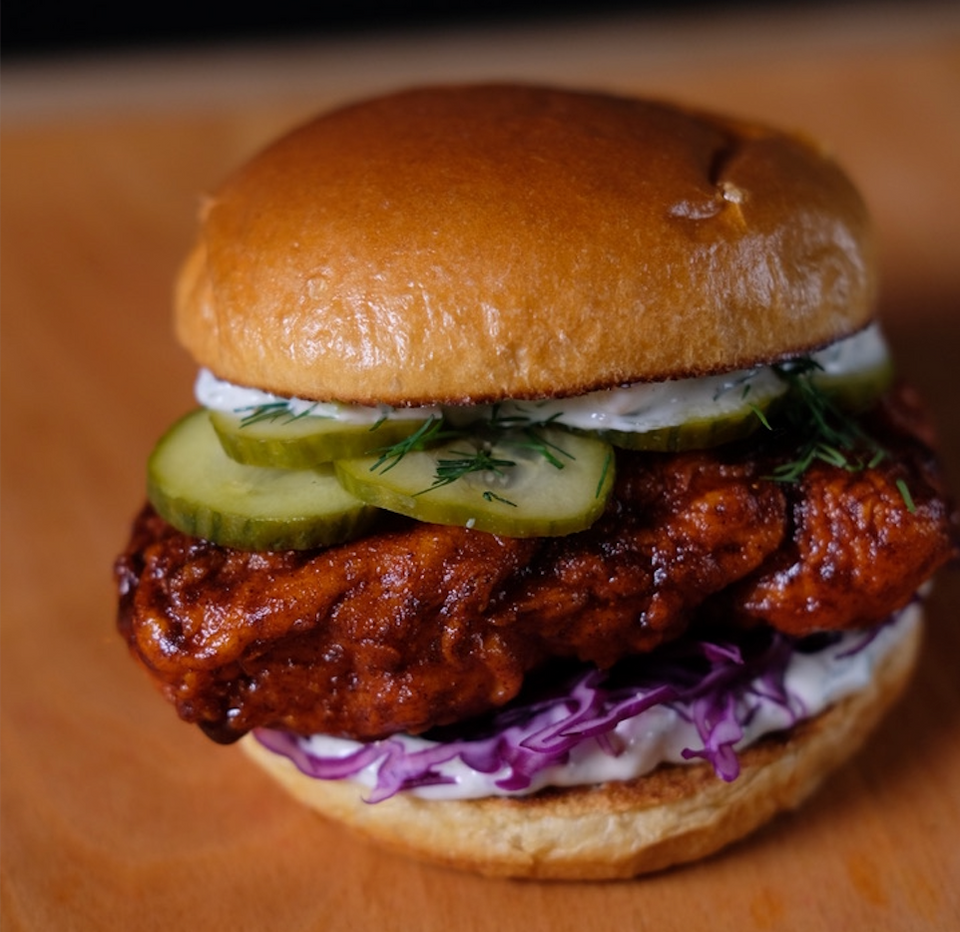 Time to complete
2 hours 40 minutes
Serving size
4 Sandwiches
Preparation
Make the pickles, in a large mason jar, combine cucumber, garlic, dill, habanero, and peppercorns. In a HexClad Hybrid 1 Qt Pot, bring vinegar, ½ cup water, sugar, and a large pinch of salt to a boil over medium heat. Pour over cucumber mixture, close the lid, and shake to combine. Refrigerate until well chilled, at least 2 hours or up to 1 week. 
Make the tartar sauce, finely dice 4 pickles and combine in a bowl with remaining ingredients. 
Season cod with salt. In a shallow bowl, whisk flour with 1 tablespoon each of the paprika, garlic powder, onion powder, salt, and pepper. In another shallow bowl, whisk the eggs until smooth. 
Working with 1 piece of cod at a time, dredge in the flour mixture, then in the eggs, and finally back in the flour mixture, gently pressing the flour mixture into the cod so it sticks.
Heat ½-inch oil in the HexClad 7 Quart Chicken Fryer over medium heat until shimmering, about 4 minutes (if using a deep fry thermometer oil should be about 375º). Fry cod until golden brown and flesh is just cooked through, about 2 minutes per side. Remove a wire rack set over a baking sheet or paper towel lined plates. 
In a medium heatproof bowl, combine cayenne with the remaining tablespoon each of paprika, garlic powder, and onion powder. Remove half of the spice mixture to a small bowl, then ladle ¼ cup of the hot oil into the bowl with the other half. Drizzle spiced oil over fried cod and sprinkle with remaining spice mixture. 
Melt half of the butter in the 12" HexClad Hybrid Pan over medium-high and toast half of the buns cut side down until golden, about 1 minute. Repeat with remaining butter and buns. 
Spread a generous spoonful of tartar sauce on the cut side of buns. Top bottom buns with cabbage, a piece of fried cod, and pickles and sandwich with the top buns.