Inspiring Traditions From Christmas Dinners Around The World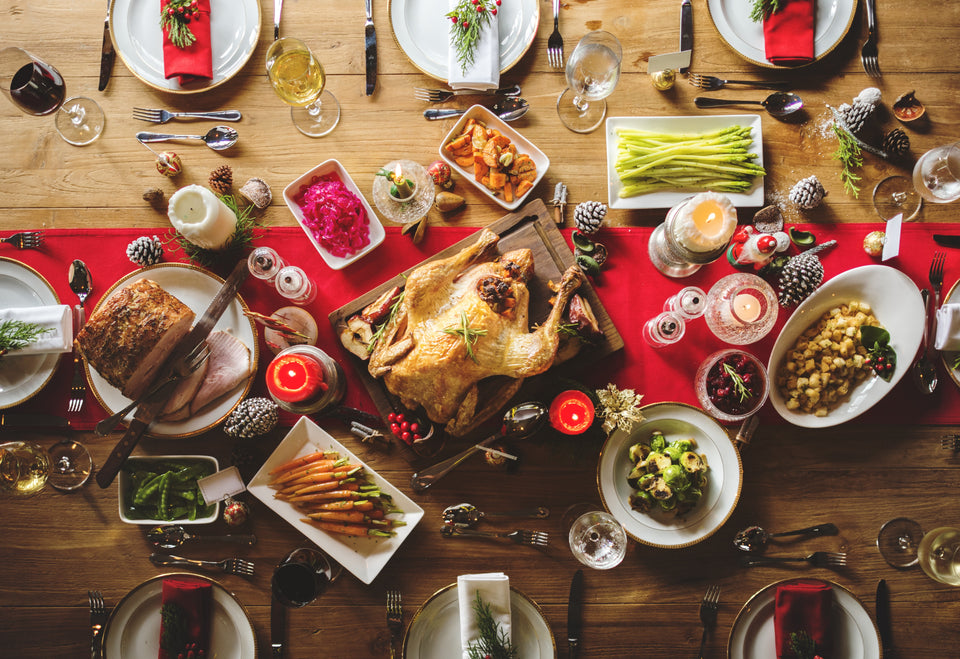 Christmas is a time for joy, community, and celebration filled with exquisite food, drinks, and cheer. Many cultures come together around a sumptuous feast on Christmas Eve or Christmas day. The way the holiday is celebrated through food differs from country to country. Perhaps you are looking for inspiration from abroad this year or just curious about how other cultures celebrate Christmas with food. Here are some traditions for Christmas dinner from around the world:
Christmas Dinner in Italy
In Italy, the Christmas celebration varies depending on the region. Many homes forgo meat ont he night before, instead featuring fish- and seafood-based dishes. You're likely to see an antipasti board at the beginning of the meal, a bowl of broth with homemade tortellini, or a baked pasta. For dessert, panettone is classic, but you're as likely to see struffoli (a tower of fried dough balls) or pasticelle, fried dough stuffed with chestnuts. Many Italian-Americans have come to celebrate the holiday with the Feast of the Seven Fishes, which originated in Southern Italy. The exact dishes vary depending, but each course of the seven-stage meal features seafood. You're likely to see a wide variety of dishes like pasta, grilled fish, a seafood stew, and fish pie. 
Christmas Dinner in France
As in many countries, the menu for the Christmas holiday varies from house to house. But in French, you're likely to see starters like foie gras, oysters, snails, and smoked salmon. For the main courses turkey with chestnuts and potatoes is traditional. As for dessert, a gorgeous bûche de Noël (aka a yule log), is popular. This Swiss roll cake features a buttercream filling and frosting to make the cake look like a log, with decorations like meringue mushrooms, marzipan holly and berries, and powdered sugar "snow."
Christmas Dinner in Japan
Though Shinto and Buddhism are the most common religions in Japan (only around 1 percent of the population is Christian), Christmas celebrations have still found their way into the culture. According to TimeOut, KFC has become a popular Christmas dinner for millions of Japanese. Afterwards, you're likely to see strawberry and cream christmas cake. (According to NPR, the cake is enshrined as an emoji—look for the slice with a strawberry on top.)
Christmas Dinner in England
If you grew up with Dickens' A Christmas Carol and the lyrics of carols like "now bring us some figgy pudding," then you have an idea about the way the English celebrate Christmas. Though the goose has evolved into a turkey on many tables, you're likely to see a roast bird, vegetables like brussels sprouts and carrots, and a dessert made with dried fruit (like Christmas pudding, sticky toffee pudding, or fruit cake). Don't forget the brandy butter, a sweet condiment made with confectioner's sugar, butter, vanilla, and, of course, brandy, which Brits dollop on top of Christmas pudding or mince pies.
Christmas Dinner in Mexico
Around Mexico, you're likely to find any number of dishes, from pork tamales to pozole soup. Menudo (a chile-infused tripe stew) is a popular favorite, as is chiles en nogada, a stuffed poblano pepper topped with a creamy goat cheese sauce that's topped with pomegranate seeds.For dessert, you can find powdered sugar-coated Mexican wedding cookies, flan, or buñuelos—fried dough fritters sprinkled with cinnamon sugar and drizzled with honey. Don't forget a bowl of Poche Navideño, a warm, spiced fruit punch.
Christmas Dinner in Germany
In Germany, the main celebratory meal is eaten on Christmas Eve, also known as Heiligabend, or Holy Evening. Though this evening used to be part of a fasting period leading up to Christmas, or Weihnachten, but now you're likely to find a variety of special dishes, including roasted bird (like goose or duck) or wild meat (like wild boar or venison) or fish. Raclette and fondue are popular dishes, too. You're likely to see potatoes served alongside all dishes—they are a national favorite! There's no hard and fast rule when it comes to dessert for Christmas in Germany. Lebkuchen—a spiced, soft cookie made with nuts—finds its way into trifles and tiramisu, or you might find mousse layered with fruit. Don't forget a batch of Glühwein to start the evening. The mulled wine is a national favorite.