Hibachi-Style Shrimp Fried Rice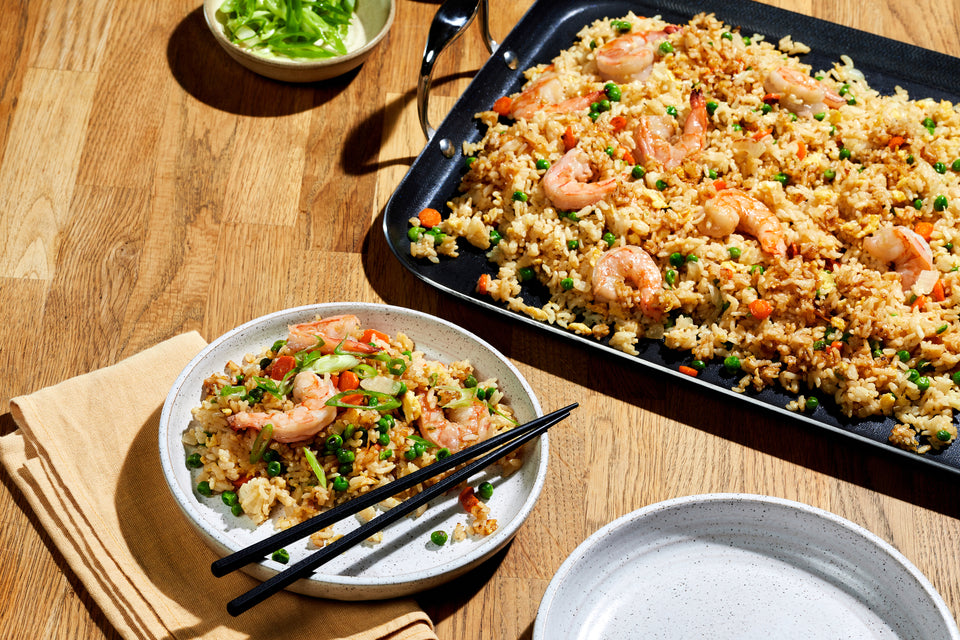 Time to complete
20 Minutes
Preparation
In a small bowl, combine soy sauce and sake. In another small bowl, combine butter and garlic. Set aside.
Heat the HexClad Hybrid Double Burner Griddle over high. Brush griddle with 2 teaspoons of oil and add shrimp. Cook, turning shrimp halfway through, until shrimp are just cooked through, about 3 minutes. Add a teaspoon of the butter mixture and a tablespoon of the soy sauce mixture and toss to coat shrimp, about 20 seconds more. Remove shrimp to a plate. 
Add 2 more teaspoons of oil and onion and carrot and cook, stirring occasionally, until everything starts to turn tender, about 2 minutes. Push the onion and carrot to the upper part of the griddle. 
On the lower part of the gridle, add the remaining 2 teaspoons of oil and the egg and scramble for 30 seconds until mostly set.
Add remaining butter mixture and rice and toss everything together, coating it in the butter mixture. Then spread the rice mixture into a thin layer across the griddle. Cook, stirring a few times until rice is crispy and everything is cooked, about 4 minutes. Stir in remaining soy sauce mixture and peas and continue to cook, stirring, until combined and heated through, about 1 minute more. Toss shrimp back into fried rice mixture and turn off the heat. Serve garnished with green onions.