What Is Nashville Hot Chicken: The History & Authentic Recipe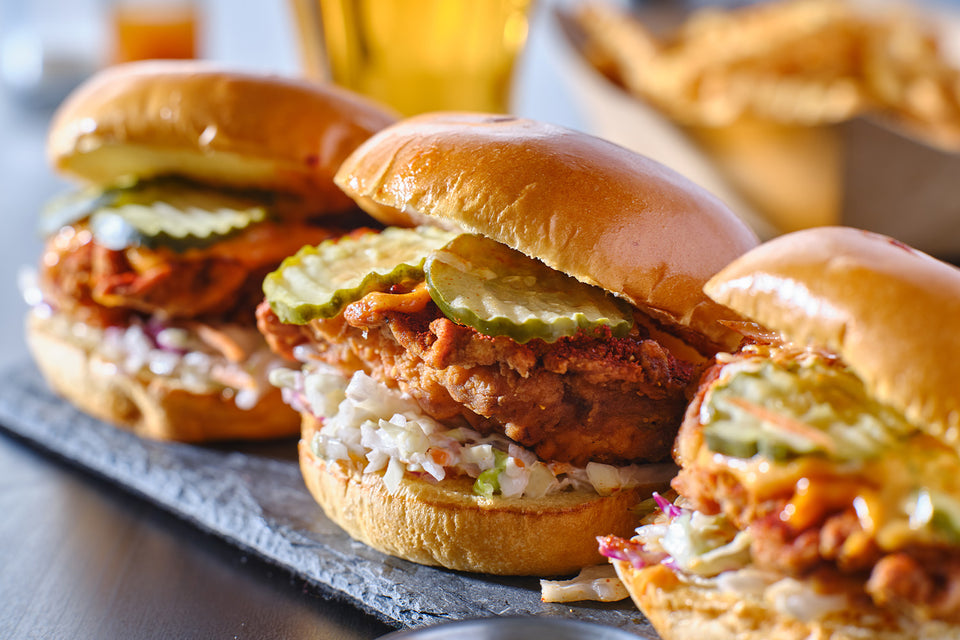 There's nothing like the satisfying crunch and heat you get from your favorite hot chicken sandwich place in the Music City, whether that's Hattie B's Hot Chicken, Bolton's Spicy Fried Chicken, or Prince's Hot Chicken. But did you know the original Nashville hot chicken restaurant was created by accident? 
If you've been searching for the most authentic hot chicken recipe, plus some details about where it came from, look no further. We've got everything you'll need to know right here. 
Warning: Reading this may cause serious cravings. We recommend getting your chicken frying pan ready, stat.
What Is the History of Hot Chicken?
Nashville hot chicken is basically the Southern tradition of fried chicken mixed with a serious kick of heat from cayenne pepper and some no-joke hot sauce.
The Hot Chicken Scandal
The original, or first, creation of Nashville hot chicken started with a major scandal.
A notorious womanizer, Thornton Prince (great uncle to Andre Prince Jeffries of "Prince's Hot Chicken" fame), is said to be at the center of the hot chicken phenomenon. 
To put it plainly, Prince was a fan of the ladies, and he found it difficult to stay faithful. When his steady girlfriend found out about his cheating ways, legend says that she had every intention of getting back at him.
How did she do it? Hot sauce — and a lot of it. 
The story, as told by his great-niece Andre Prince Jeffries, says that the next day Prince's girlfriend served him fried chicken breasts smothered in a spicy sauce to teach him a lesson about cheating.
Instead, he loved the idea of deep-frying chicken in tons of hot sauce and praised her work. Then, he opened the BBQ Chicken Shack and the rest is history. Her plan backfired — but we got incredible hot chicken because of it.
A Tradition Born
What we know today as Prince's Hot Chicken Shack is the original hot chicken spot. 
Thornton Prince and his hot chicken have always drawn a big crowd. To this day, you can expect lines around the block to try the original hot chicken restaurant.
Hot Chicken Today
Prince's original restaurant is still standing today, but there are a lot of competitors now, and they're all delivering some of the best hot chicken money can buy. Recipes and sauces have been tweaked slightly to give each competitor a signature spin on the dish and offer differing levels of heat.
There are also fast-food titans like KFC and Raising Cane's, with their own fried chicken recipes that differ from the hot chicken style.
As of today, hot chicken is considered the it dish of the South. You can probably even find variations of it on a menu near you, wherever you might be located. You may not want to eat it every day as it's high in refined carbohydrates, saturated fat, and cholesterol, but it's one hell of a nice treat every now and then.
Hot Chicken's East Nashville Origins
East Nashville is where the tradition and dish originated and then stayed for a long time before it became a global sensation. Those growing up in farther away parts of Tennessee might have never known about the dish as kids. 
Hot chicken has its roots deeply set in Black communities in Nashville due to the segregation laws that used to be in place. Nashville as a whole was affected greatly by Jim Crow-era laws which divided the city into segments, meaning that food that was popular in one part of the city might not be well-known in another. 
Black communities took shape opposite downtown Nashville on the other side of the Cumberland River. This area is still rich in Black culture and history to this day, and you can still find some delicious hot chicken there.
Today's Widespread Love for Hot Chicken
Thankfully for everyone living outside Nashville, hot chicken caught on and is now one of the most popular chicken recipes out there. 
You might not have realized the history behind it, but that next crunchy bite of spicy goodness will taste a little more meaningful knowing where the tradition started. 
The Real Hot Chicken Recipe 
As foodies, when we find a meal we love, we usually want to try the original. You don't want the latest cheesed stuffed crust pizza crap; you want the original Italian family recipe of pizza from Naples. We want to know the flavors from where it all started (and then we want to make it at home to enjoy whenever we want).
So, what if we told you there's no one original recipe for hot chicken?
The Right Ingredients
We mean it — as it stands today, hot chicken doesn't have one recipe. For this dish, it's more about using the right ingredients and one ingredient, in particular, takes the stage — a few tablespoons of cayenne pepper. 
The most crucial part of hot chicken comes down to getting that sweet heat from the right source. From there, you can use any ingredients to your marinade and just put it in the deep fryer until the chicken becomes a crispy golden brown.
Our Nashville Hot Chicken Recipe
If you're looking for a kickass Nashville hot chicken recipe, have we got one for you:
What Cookware Do You Need?
When choosing your pots and mixing bowls, be sure to use nonreactive cookware. Vinegar-based hot sauces will cause reactive pots and pans to break down and add metallic flavors to your chicken. 
Our stainless steel mixing bowls are the perfect accessory in the kitchen when preparing meals like this. They'll hold enough marinade and flour to coat all your chicken. Plus, they're strong and nonreactive so your food won't be altered in any way. Our bowls can also double as airtight storage containers if you don't have time to dredge all your chicken at once.
Start With High-Quality Chicken
Even when frying, you want to use high-quality meat. Tenders are a good option. You can also try chicken thighs or chicken breasts. 
For larger pieces of chicken, you may want to cut them down to a smaller size. If you do, be sure to use a properly sharpened chef's knife. 
Making the Chicken Coating
You will coat your chicken in two mixtures:
An egg mixture
A flour mixture
For the egg mixture: You'll want to use four eggs, two cups buttermilk, and two tbsp vinegar-based hot sauce (not buffalo sauce).
For the flour mixture: Combine four cups all-purpose flour with a few tbsp of salt and a pinch of black pepper.
Prepping the Chicken
Next, dunk the chicken in the egg mixture and let any excess drip off. Then, dredge the chicken in the flour mixture and shake off any excess. You can do this more than once if you want a thicker breading on your chicken.
Get a large pot and fill with it frying oil (generally avocado, peanut, or vegetable oil is best for chicken). Put the pot on medium heat. Use an instant-read thermometer to check the temperature. When the oil reaches 350 degrees, you're ready to fry.
Getting That Crispy Chicken Texture
Working in batches, slowly submerge the chicken into the hot oil and fry those bad boys until they register an internal temp of 160 for breasts and 165 degrees for thighs. This should take roughly 15-20 minutes. They should come out crispy and golden brown.
Once they're cooked thoroughly, remove the chicken from the oil and transfer it to a wire rack over some paper towels or a baking sheet to catch any drippings.
Making the Hot Chicken Sauce
Time to make your hot chicken sauce.
Whisk together cayenne, brown sugar, chili powder, garlic powder, and paprika in a bowl. Once combined, add up to a cup of frying oil to the spices combine it all, then brush the chicken with your sauce. 
Your hot chicken is ready to serve!
The Right Way To Serve Your Chicken
While hot chicken enthusiasts all over the South, including East Nashville, will tell you there's no wrong recipe to make hot chicken, they are adamant there's a right way to serve hot chicken. 
First things first, never serve hot chicken with a dip. That means no ranch or blue cheese on the side of your hot chicken. Instead, hot chicken should be served with a side of dill pickles.
Instead of using the creaminess of extra sauces to cut through the heat, hot chicken utilizes the vinegar in pickles to provide relief from the spice. If you need a creamy source of relief, the only acceptable option is coleslaw. It's tradition.
Equally as important, hot chicken should be served with two slices of plain white bread. The bread is intended to soak up any sauce that drips off of the chicken.
You may have seen restaurants stray from this traditional method of serving hot chicken, and we're not judging. If you want it the old-school way, though, this is what you need to have ready on your dinner table. 
The Right Time To Eat Hot chicken
Thornton Prince actually had a full-time job. That means his hot chicken restaurant was a secondary form of income, so it was only open at night after working hours. While Prince's still honors this tradition with after work hours, you can get your hot chicken fix in the daytime now as well. 
However, if you're really going for authenticity, you should serve hot chicken for dinner. We probably can't wait that long when cravings hit, but we can at least say we tried.
What's the Legacy of Hot Chicken?
Hot chicken has become so popular that many new traditions have risen, cementing its place in pop culture. 
Festivals
Hot chicken has recently become known as the official dish of Nashville. To celebrate this tradition, there's now even a hot chicken festival.
Fast Food
Even if your town doesn't have an official hot chicken restaurant, we can bet at least one or two fast-food chains are serving up this spicy dish. 
It's so popular that many restaurants, regardless of the rest of their cuisine, have started adding a hot chicken recipe with their own flair. 
Enjoy Hot Chicken Your Way
We're confident that you're probably drooling right about now, and we don't want to stand in the way of your serious cravings for hot chicken any longer. 
With our stainless steel hybrid cookware, you'll never find a better pot for frying or better bowls for mixing up your own version of hot chicken. All you need to do now is go out and buy your ingredients.
Sources:
Cayenne Pepper in a Meal: Effect of Oral Heat on Feelings of Appetite, Sensory Specific Desires and Well-Being | ScienceDirect
The Effect of Sugar, Amino Acid, Metal Ion, and NaCl on Model Maillard Reaction Under pH Control | SpringerLink