Classic Summer Recipes: As Fun To Cook As They Are To Eat
by HexClad Cookware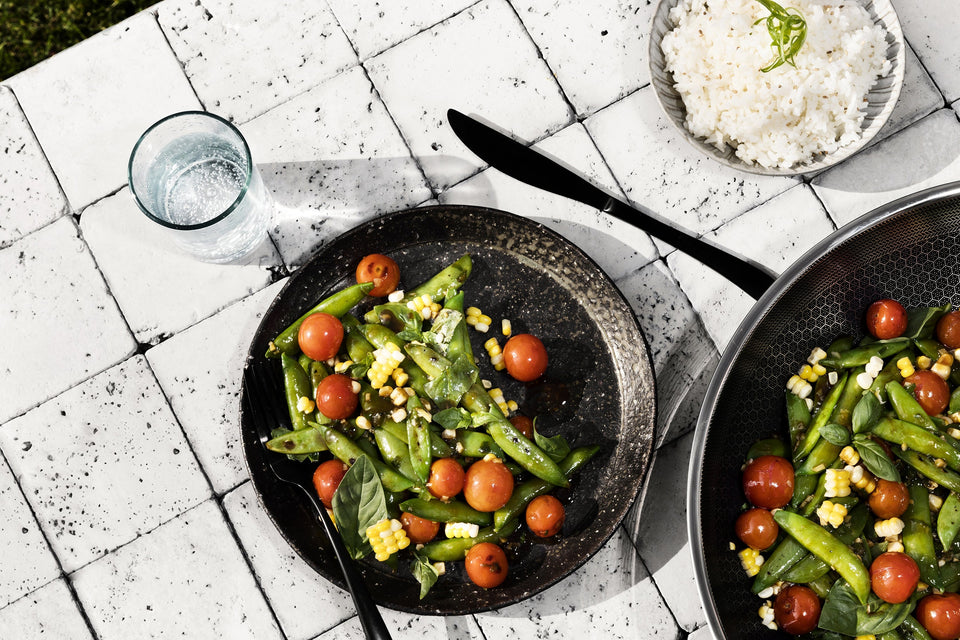 When temperatures soar, it's hard to imagine eating a hearty beef stew or a plate of mac 'n' cheese. It's natural that our palates shift with the seasons. In summer, the markets are bursting with fresh fruits and vegetables that don't need much preparation to become dinner. That's good news, since using the stovetop or oven can add a lot of heat to the kitchen. As extreme weather events increase the chances of heat waves across the globe, it's more important than ever to stay cool when cooking.
Here are our tips for summer cooking:
Opt for no-cook dishes
Not only do no-cook recipes like blender gazpacho and shaved zucchini salad make the most of the glorious summer bounty, they allow you to keep the oven and stove top off. Don't worry, no-cook recipes are about more than bowls of lettuce. Assemble a Niçoise salad (opt for snap peas instead of the classic boiled green beans), toss pre-cooked shrimp with avocado and cucumber and dress with a soy-lime dressing, or turn a can of chickpeas into a hearty, healthy sandwich.
Be smart about oven use
If you need to turn the oven on, make big batches and utilize all the racks. Slide a couple trays of roasted vegetables underneath the baking casserole, or add a peach cobbler to the bottom rack.
Choose ingredients with a high water content
Staying hydrated in the summer isn't just about chugging water. Fruits and vegetables with high water content can help quench your thirst, too. Top hydrating picks include cucumber, tomatoes, celery, watermelon, peaches, and zucchini.
Cook when the temperature dips
Mornings and evenings tend to be cooler, so if you are going to use the stovetop or oven, plan ahead and cook then.
Pick foods that cook quickly
Thin cuts of meat, poultry, or fish will take way less time on the stovetop than their heartier counterparts. Boiling eggs is slower than frying them. Shaving some time off stove top use means you won't add as much heat to the kitchen, keeping you cooler.
Delicious ideas for making the most of summer produce:
Whether you're looking for lazy summer dinner ideas or summer fruit desserts, the bounty of produce from June through August has got you covered. Here are some easy ideas to get you inspired:
Watermelon
Toss cubed watermelon with feta, avocado, lime juice, and olive oil. Garnish with mint leaves

Blend watermelon and tomatoes into a simple summer gazpacho. Top with a jalapeño-mango salsa.

Dip wedges of watermelon into melted chocolate. Sprinkle with flaky sea salt and freeze until solid.
Cucumber
Smash chunks of cucumber and toss with toasted sesame oil and chiles.

Blend cucumber into a refreshing agua fresca.

Use a spiralizer to turn cucumbers into noodles and toss with a peanut dressing.
Romaine and Little Gem Lettuce
Make a Caesar wedge salad, topping the wedges of romaine or little gem lettuce with Caesar dressing, croutons, shaved parmesan, and anchovy fillets.

Toss sliced romaine with blue cheese, avocado, cucumber, and shrimp for a quick summer dinner.
Summer Squash
Scoop out the insides of zucchini and stuff them with corn and crab salad.

Shave yellow squash into long strips and toss with lemon juice, chopped Marcona almonds, shaved Pecorino, and parsley.

Blend avocado, zucchini, lemon juice, and water to make an easy soup.
Tomatoes
Halve cherry tomatoes and toss with cooked orzo pasta, goat cheese, chopped fresh herbs, toasted hazelnuts, and olive oil for an easy summer orzo salad.

Spread fresh white bread with mayonnaise and top with a thick slice of juicy heirloom tomato. Sprinkle with high-quality flaky sea salt and eat.
Cantaloupe
Blend cantaloupe, cucumber, mint, and coconut water into a slushy.

Layer cantaloupe, blueberries, Greek yogurt, and granola for an easy breakfast parfait.
Corn
Blend corn into a no-cook soup. Top with crumbled cotija and chili powder for an elote-inspired twist.

Toss fresh corn kernels with chopped avocado, cherry tomatoes, pinto beans, and chives for a fresh summer corn salad.
Stone Fruit
Grill halved nectarines and top with vanilla bean ice cream.

Wrap peach wedges in prosciutto and serve with burrata and basil leaves.

Pickle plums and serve with grilled steak.
Blueberries
Quick-pickle blueberries in red wine vinegar and serve over grilled chicken. Save the pickling liquid for vinaigrettes.

Blend blueberries with vanilla ice cream and lemon juice for a peak-summer milkshake.