Delicious Summer Pasta Recipes To Make at Home
by HexClad Cookware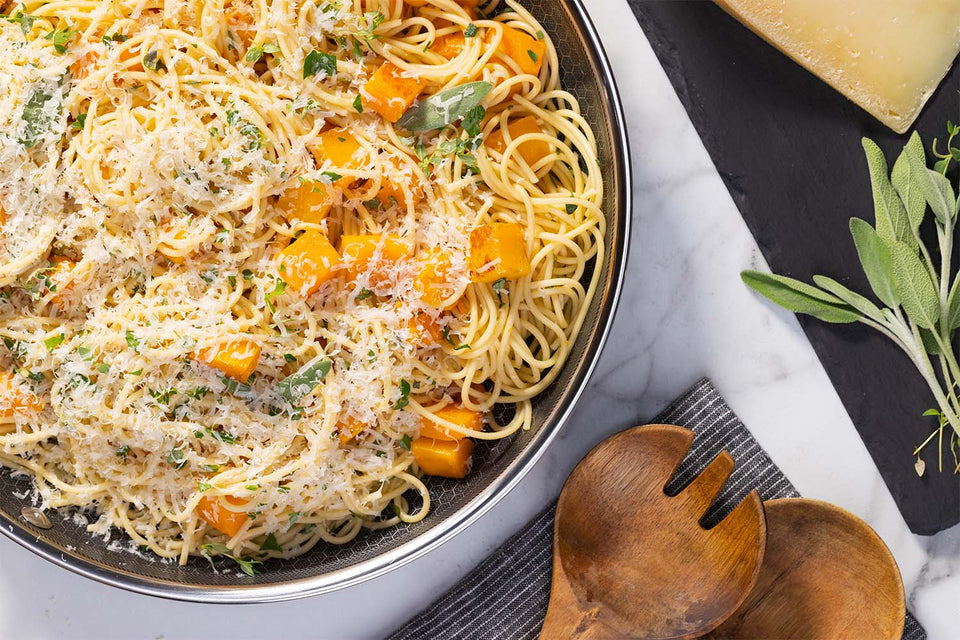 The temperature is rising, but that doesn't mean we're off the hook at mealtime. It's hot, so we need to adjust the way we cook to help us stay cool. 
Today, we're talking about fun and fresh summer pasta recipes. From a variety of sauces, citruses, veggies, and proteins, we are sure you won't get bored making dinner for your family. 
Still, not every pasta recipe is comfortable during these hot summer months. We want to make sure you have a great list of all the best ingredients the summer can bring you. Leave the rest to fall and winter. 
While our favorite bolognese sauce may be a little too heavy for the hotter months, there are plenty of lighter options that will have our bellies full and happy all summer long. 
Summer Approved
You may not know it, but the heat of summer can change the way we like to eat. Because our bodies need to find ways to keep cool when the weather makes us sweat, we tend to eat less (or lighter) food. 
You know how we said that our favorite bolognese isn't right for summer? It's true! Heavier and heartier pasta dishes can cause a bit of discomfort when it's really hot outside. 
So, whatever can we do? Well, for starters, we can switch out our heartier favorites for lighter, summery pasta options. This way, we can still enjoy our favorite comfort foods with seasonally-appropriate new techniques. 
It's the best of both worlds. All the foods we love with ingredients combined in different ways to keep us from feeling weighed down. No one wants their food to make them feel uncomfortable.
Thankfully, we've gone through all the growing pains for you. All you have to do is find the recipe that's right for you and your family, and get to enjoying dinner, faster.
Let's Talk Pasta
Before we get started on recipes, let's talk about pasta. We love all kinds, so don't worry — this isn't a campaign on why you shouldn't eat orecchiette or something. In fact, we think different kinds of shapes and noodles work best with different recipes, so you'll hear about it all today. 
We do, however, want to talk about fresh or dried pasta options. Not everyone has the time to make pasta — at least not every time we want to make pasta for dinner. While specialty markets can offer fresh options, this isn't always accessible in a pinch. 
So, dried pasta is just fine, we guess. Just be sure to read the cooking times for each. The last thing you want is to saute veggies early, only to find out they're overcooked by the time your pasta is ready. 
Fresh pasta takes a fraction of the time to cook, so it's easier to make at the last second. 
If you do go this route, you don't necessarily need a pasta maker to cut noodles either! You can stir, knead, and roll out the dough by hand and cut noodles with a knife. 
We recommend our Damascus Steel 8" Chef's Knife. It's sharp and will cut through the dough in a flash, making dinner time that much closer.
Keeping It Classic
There are quite a few staple pasta dishes that are perfect for the summer without any modification. It's always fun to spice things up and put new spins on old school dishes, but sometimes classics hit the spot without any newfangled help. 
Cacio e Pepe
Cacio e Pepe (meaning cheese and pepper) is an easy classic recipe that's perfect for the summer. It has the right amount of cheesy saltiness to complement the subtle heat from the fresh cracked pepper (and the subtle heat from the sun). 
What's even better than these creamy, spicy flavors? How easy it is to make. Grab your favorite noodles — we recommend spaghetti — and mix with freshly grated parmesan and fresh cracked pepper. Toss until the noodles are coated in both ingredients and you're ready to serve. 
It's a quick weeknight dish that will satisfy all the palettes in your home. 
The most common noodle to use for this dish is spaghetti, but we think this recipe by Chef Daniele Uditi that calls for bucatini is pretty amazing. 
Summertime Marinara
We can't deny how good fresh marinara tastes, but it can feel heavy on really hot days. If you're looking to satisfy a red sauce craving without feeling tired and uncomfortable afterward, try a hot weather twist. 
Instead of making a complete sauce, roast and puree a few fresh tomatoes, then add a few ingredients to keep the sauce light and fresh. 
Add minced garlic, a little bit of sugar to offset the acidity, and fresh herbs and spices to add flavor and depth. This way, you'll get your marinara sauce with a lighter take. 
Add your favorite pasta and a freshly grilled filet of fish (like sea bass) to complete the dish.
We also think this would make the perfect sauce for a Caprese-style dish. Think: a piece of grilled chicken with a layer of fresh basil and a slice of mozzarella cheese broiled on top!
As always, make sure that you're using a nonreactive pan to ensure that your sauce doesn't pick up any metallic flavors. We recommend the Hybrid Deep Saute Pan/Chicken Fryer With Lid to make the perfect pasta every time. 
Pesto Perfection
Pesto sauce is a fan favorite for a reason. Composed of basil, pine nuts, garlic, olive oil, salt, and parmesan cheese, this is one of the lightest, full-flavored sauces on the culinary scene. 
The flavor profile consists of garlic notes with a herbaceous backbone. It's light enough to work for dinner on the hottest of summer nights, trust us. 
Pesto sauce can work on virtually any type of pasta, but we think the shell shape works especially well. Why? It's a fun shape for kids and will hold sauce in its cavities, so you'll get bursts of flavor with every bite.
Pasta Primavera
Any vegetarian knows that pasta primavera is an easy and delicious meal no matter the veggies you choose. For the summer months, stick to some of those summer staple veggies (more on this later), and you'll have enough variety to make this meal at least once a week. 
Penne or rigatoni pasta is always a wonderful option for a primavera dish. If you prefer a noodle, go with linguine. Both of these pasta options are thicker and strong enough to add salty notes to light and fresh vegetable ingredients. 
If you aren't vegetarian and want to make it more substantial, add a lighter protein option, like shrimp or diced chicken. 
Add a little lemon zest to the top instead of cheese for a bright and citrusy pop that will take your plate to the next level. 
Pro Tip: Cut, oil, and season your veggies before sauteing them and adding them to pasta. We recommend cutting them and adding them together in a large mixing bowl. Then, add oil and your preferred seasonings before tossing them into a pan to be cooked. 
Alfredo
Fettuccine alfredo is a classic. If you just have to have it for dinner, we totally support you. But it can feel heavy in the summer, so make sure you keep this in mind at mealtime. 
We recommend a classic fettuccine alfredo without protein to keep it a little lighter while still leaving you full. 
Remember a fresh sprinkle of parsley to garnish and finish the dish for a bright herbaceous kick. It's the perfect way to keep it bright and light for the summer months. 
Shrimp Scampi 
Shrimp scampi is a delicious meal any time but makes for an awesome summer pasta recipe. The bright notes from the garlic, bite of spice from the chili flakes, and sweet hits from white wine are light but still filling. 
Plus, the fresh herbaceous quality of sprinkled parsley really brightens everything up for the heat of summer. You won't feel heavy and weighed down, but you'll definitely be satisfied. 
This dish works best with an angel hair noodle, a thin, barely-there pasta that complements the light feel of the dish. 
Linguine and Clams 
Linguine and clams is a slight variation on shrimp scampi. The sauces are relatively equal to each other, but the clams provide a brine that you won't get from the shrimp. 
That sea quality from clams is stronger than the sweet notes of shrimp, so it takes a stronger noodle-like linguine to round out the dish. 
It will be heartier than the shrimp scampi but still light enough for a summertime meal. 
Puttanesca
Puttanesca is a pasta sauce made from capers, anchovies, tomatoes, olives, red pepper flakes, olive oil, and garlic. 
It's a yummy combination of savory, sweet, and spicy — and a bold and beautiful choice no matter the time of year. In the summer, this spicy and bold sauce might not take away the heat, but it will stand up to summer and the sweet notes will keep you from feeling heavy. 
Add this sauce to your favorite spaghetti or angel hair pasta and dinner is served. 
Pasta Carbonara
Pasta carbonara is probably the heaviest or most filling dish we will highlight, but the flavors are still light enough for summer eating. 
The sauce is made when you whisk egg yolk with parmesan, cheese, and bacon and quickly toss it into freshly cooked pasta. This leaves you with velvety pasta that is both flavorful and (thanks to yolk and bacon) pretty hearty. 
It's a simple dish and without the presence of a second protein remains filling but on the lighter side. 
It might not be a go-to all summer, especially on the hottest days of the season. Still, it's refreshing enough to be enjoyed with a glass of white wine without making you uncomfortable.
When the weather cools down again, try this classic carbonara twist that adds butternut squash for a little winter warmup.
Cold Creations
What do we do on a cold day in winter? Eat warm, comforting meals like soup. So, naturally, what should we do on a hot day in summer? Eat something cold, like a pasta salad or, well, cold soup. 
Pasta salad is a Summer BBQ staple. The best part? Leftovers won't go to waste. Everyone that loves a good pasta salad knows that it tastes even better a day or two after it's made. 
The extra time sitting gives all the flavors enough of a chance to make their mark on the dish. You'll notice that days two and three of a good pasta salad have the best flavor. 
The same can be said for a cold soup, like gazpacho. The ingredients are fresh and light and the flavors are amplified when it's allowed to combine together overnight. 
These recipes will cool you off on even the hottest days and leave you satisfied. 
Classic Pasta Salad
We say classic, but there are many ways to make a pasta salad. Everyone seems to have their own special recipe that they'll whip out anytime there's a BBQ.
Nine times out of ten, these recipes are different from another pasta salad lover's. This means that whatever you prefer, there's no wrong way to make this dish. 
The most common ingredients are:
Pasta-usually a spiral shape
Veggies
Dressing
Cheese
Once you decide what type of ingredients in these categories you want to use, the sky's the limit!
For the most classic and easy pasta salad recipe, you will want to use cherry tomatoes, halved, red onion, black olives, provolone cheese, and an Italian vinaigrette. 
However, a Greek-style pasta salad could add cucumber, sauteed spinach, sub in feta cheese for provolone, and sub balsamic for an Italian vinaigrette. 
Macaroni Salad
Macaroni salad is a specific variation of pasta salad that's really popular at potlucks and picnics. 
This dish calls specifically for elbow macaroni. Instead of a vinaigrette, macaroni salad uses mayonnaise as the dressing. Cold mayo and pasta? Don't knock it 'til you try it.
Macaroni salad is creamy, salty, and sometimes a hit of pickled sweetness if the recipe you used also adds relish as a flavor profile. The best part is how satisfying and cooling the flavors and temperature of macaroni salad are. 
Just like other pasta salad recipes, the taste gets better with time. 
Tuna Noodle Salad
This is a delicious variation on the classic macaroni salad. Everything stays the same, down to the mayo-based dressing.
A few additions make tuna noodle salad taste and work as a cross between potato and macaroni salads. Many recipes add celery, egg, tuna of course, and relish.
You'll get salty, crunchy, and sweet notes that will soak right into the tender macaroni. 
Cold Soups
Cold soups are a great way to stay cool this summer and still fill your belly. Using a pasta-like orzo, mini shells, or small elbow macaroni will keep it feeling like a soup but make it more substantial. 
Ingredients like fresh corn, chickpeas, white beans, cucumber, and tomatoes are staples in cold soups like gazpacho and will brighten up any meal. 
Serve this as a side dish with your favorite protein and you've got a meal that will fill you up without weighing you down. 
New Age Noodles
A lot of popular dishes are variations on classics — but they're so popular, they could be considered classics themselves. 
Of course, there are quite a few ways to make a summery pasta dish. These are some of our favorites. 
Butter and Cheese
Okay, we know this is usually reserved for the toddlers and picky kids in the house, but maybe they're onto something. It may not be complicated or nuanced, but man, is it delicious. 
If you want to spruce it up and make it more appealing for those individuals in the family above three feet tall, try a few simple ingredients like chiles, cherry tomatoes, fresh basil, romano cheese, and zucchini. 
It will read very similar to a pasta primavera with your own comforting spin. 
New Take on Risotto
Orzo pasta looks like short-grain rice, but it cooks and tastes like pasta. This makes it a very versatile ingredient that can be used to create a lot of fun and delicious dishes. 
Want a fun twist? Try using orzo for a risotto-style dish. It'll be a simpler process because you can cook everything together, for a one-pot stop. 
Instead of boiling the pasta and draining it for use, cook it slowly in a smaller amount of water that will absorb into the pasta, then leave the small amount of remaining pasta water for flavor. 
You'll be able to add in your favorites at this point to make it your own. Some fun ideas could be artichokes, spinach, and feta cheese for a Greek take. 
For a more Italian-inspired dish, try fresh basil, cherry tomatoes, ricotta cheese, and a drizzle of olive oil as a garnish. 
Whatever you choose, the dish will be bright with summer veggies and a light salty kick from the cheese, all complemented with a creamy texture. 
Citrus Notes
If you're looking to keep it fresh and light for summer, sauces, and dishes that utilize fresh citrus are definitely the way to go. 
Try a pasta dish that subs in olive oil for pasta sauce and add some freshly squeezed lemon juice or lemon zest with a sprinkle of coarse sea salt as garnish. 
This style of dish works really well with seafood, so don't be afraid to add in crab, shrimp or fish for a filling yet light protein. 
Since this is a spin on classic flavors, try a bucatini noodle. It's fun and really popular right now but the hollowed-out middle of the noodle keeps it light and airy. 
New-Age Noodles
Sometimes we don't want to give up our heavy and full-bodied sauces, no matter the temperature outside. 
That's okay! We just recommend trying a different style of pasta to keep the dish lighter for the summer months. 
Cue the popular and newer sensation of alternative noodles. Zoodles and spaghetti squash have been on the market for a while, but they've really picked up in popularity in recent years. 
This is the perfect way to enjoy those heavier sauces like a hearty bolognese without feeling weighed down by your dish. 
Plus, they're fun and delicious and an easy way to sneak in a few extra veggie servings to those picky eaters in the house. 
Summer Veggies
When it comes to Summer, certain fruits and vegetables are at their freshest and best tasting, and because of this, you'll want to use them now to get the most out of your ingredients. These include:
Summer squash: zucchini, green and yellow
Arugula
Bell peppers
Eggplant
Green beans
Tomatoes
Using these ingredients in the summer will keep your dishes tasting fresh, keep your meals light, and keep your family happy every day of the week. 
It's the best way to get everyone a helping of veggies every night and give you an excuse to try out new cooking techniques. 
Time To Eat!
We are confident these recipes will keep you and your family all summer long without causing you heavy and uncomfortable feelings after mealtimes. 
Utilizing the freshest ingredients and the best recipes for summer will keep your belly happy and keep you ready for the next game of horseshoes! 


Sources:
Summer pasta recipes | BBC Good Food
Effects of Heat on Appetite - Nutritional Needs in Hot Environments | NCBI