How To Prep And Cook Butternut Squash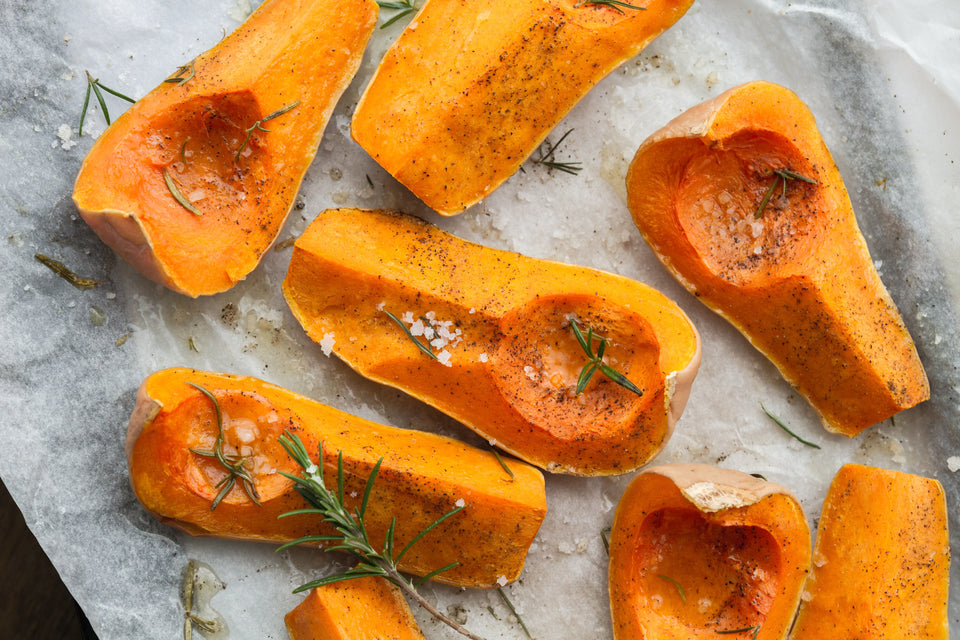 Butternut squash is a delicious winter squash that does well in both savory and sweet dishes. It can stay fresh for a long time in the pantry, meaning you can keep fresh vegetables on hand without worrying too much about it going bad. But then, sometimes butternut squash can seem impenetrable, like it's wearing a coat of armor. Avoid kitchen accidents or simply letting the squash go bad with this step-by-step guide to cutting up butternut squash.
First, gather your tools. To cut butternut squash you'll need the following:
A sturdy cutting board:

Butternut squash can be willful, requiring a bit of elbow grease. If your cutting board is warped, unstable, or flimsy, you might cause the board and knife to slip. Instead,  opt for a heavy-duty wood or plastic cutting board. Even better, anchor it with a damp paper towel or square of non-stick drawer liner, which helps prevent slippage.

A sharp, sturdy chef's knife or cleaver:

Cutting through butternut squash's tough skin and fibrous interior requires a sharp blade and a sturdy construction. A cleaver often used for meat can do wonders for transforming tough veg like butternut squash into cubes without too much hassle.

A peeler:

Despite strong insistence by devoted cooks, there is no one best peeler. The most important thing is that the blade is sharp and you feel comfortable using it. A Y-shaped peeler offers good traction, while a swivel-head peeler is a classic, beloved by many.
How to prep and chop butternut squash:
Remove the ends of the butternut squash using a sharp, sturdy knife. It can help to wedge the tip of the knife into the skin to gain traction before firmly pressing down to slice through the skin and flesh.

Use a peeler to remove the skin in vertical strips.

If you want to cut the squash into cubes, rounds, or slices: Cut the squash into two pieces, cutting between the long, solid neck and the hollow bulb-shaped base. Cut the neck accordingly. Then, cut the base in half. Scoop out and discard the seeds. (If you want to roast the squash halves, then slice lengthwise. Scoop out the seeds and discard, then proceed according to your recipe.) 
How to store butternut squash:
Store raw, uncut butternut squash in a cool, dark place for 1 to 2 months. Refrigerate prepped butternut squash in an airtight container for up to 5 days.
7 ideas for cooking with butternut squash
Maximize butternut squash's deliciousness with simple roasted wedges:
Butternut squash can certainly hold its own in a simple side dish. The key is to roast the vegetable until amply caramelized, as in
this recipe for roasted butternut squash
from The New York Times, which proves you don't need to peel butternut squash to enjoy it (and folds in a brown butter vinaigrette to seal the deal).