How To Make Big Batch Cooking Your Friend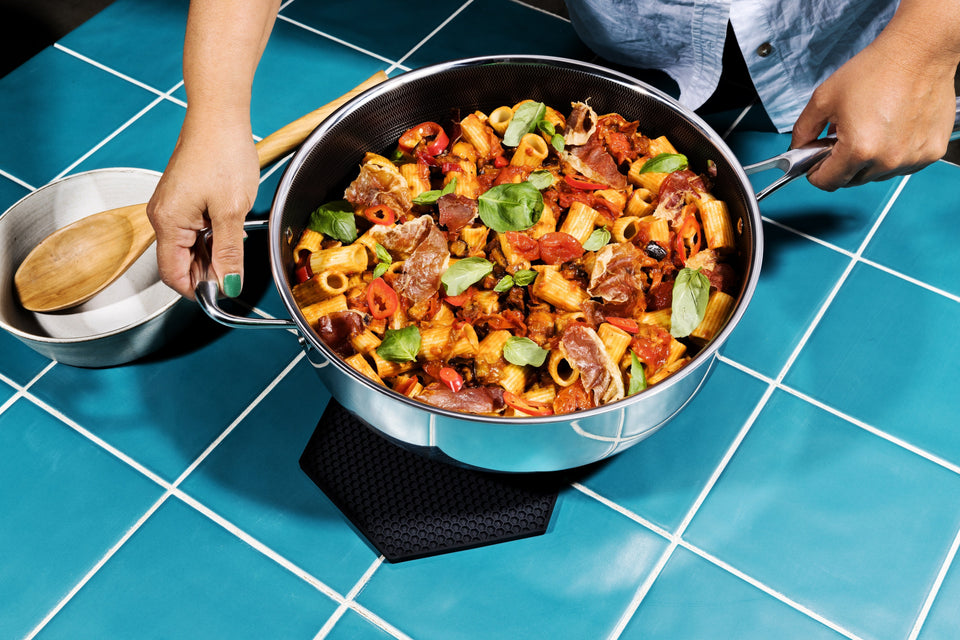 There are two kinds of cooks: those who enjoy making dinner every night of the week, and, well, everyone else. If you're someone who likes to unwind stove-side after a long day, then godspeed. For most people, though, cooking is a source of stress. Not to mention, those precious hours after the day is wrapped up (whether you're a student, full-time parent, or go to a job) are best spent how you like. It's true—research shows that any less than about 2 hours per day of discretionary time ("the amount of time one spends on activities that are pleasurable or intrinsically rewarding," like socializing, relaxing, and leisure activities) is linked to lower subjective well-being.
The answer is big batch cooking. 
Having more free time (though not too much) equals more happiness. One potential solution to this issue is getting dinner ready before the week starts. This is where big-batch cooking comes in to save the day(s). 
Don't worry, we're not talking about perfectly labeled, takeout style containers or anything too intense. It can be a matter of a few hours on a Saturday or Sunday.
Setting aside a few hours a week for big-batch cooking can feel like a massive lifestyle change, but once you're in the habit of it, the investment pays major dividends. Whether you prefer to cook off-the-cuff or use recipes, getting meals ready outside of weeknight dinnertime is a stress saver. Here are some tips to make big batch cooking your friend.
First, make sure you have enough food storage containers
If you like the type of container with little compartments to keep food separate, go for it. If you prefer a tiffin-style container that will impress coworkers when you set out your lunch, that works, too. The most important thing is that the containers are easily washable, that they can be frozen, and that you have various sizes for different needs (e.g. a jar for salad dressing, a big container for brown rice, a shallow, wide container for baked fish, etc.).
Set time aside before the prep session to decide on recipes and make a shopping list
It might sound so obvious it's not worth mentioning, but do not try to figure out what you're going to cook, the shopping list, buying the ingredients, and the actual cooking on the same day. That's a recipe (har har) for disaster. Instead, a few days before you plan to set out on the big batch adventure, decide what you'd like to make. If you prefer to use recipes, it can be helpful to mix tried-and-true favorites with just one or two newer ones. Or, if you're more of an off-the-cuff cook who likes to go with what's in season, then give some thought to the types of dishes you'd like to eat. For instance, soup, grain bowls, pasta, etc.
Plan for palate fatigue
While prepping a ton of veggies, grains, beans, and protein like fish, chicken, or meat, is a great way to approach meal prep, it can end up resulting in palate fatigue. What tastes delicious on the first day can feel pretty boring the third time round. If you love grain bowls, make two different dressings to top your plates, and choose some flavor boosters (like anchovies, olives, bacon, and cheese) to add contrast.
If you can, make at least one dish that can be frozen ahead of time
When it comes to big batch meal prep, the freezer is your friend. Freezable dishes like baked pasta, casseroles, stews, and soups can be made and frozen the same day of prep. That way, on Friday, when you really don't feel like cooking, dinner is already done. Pro-tip: freeze a portion or two of each dish (instead of the entire batch) to defrost later in the week for more variation.
Don't rely on the oven alone
It's not just about roasted vegetables and meats when it comes to meal prep. Make the most of your burners by getting out a double-burner griddle, which is perfect for cooking off salmon, sautéeing mushrooms, or making savory zucchini cakes. (In fact, that whole combo sounds pretty good together.)
Sources:
Sharif, M.A., Mogilner, C. and Hershfield, H.E. (2021). Having Too Little or Too Much Time Is Linked to Lower Subjective Well-Being. Journal of Personality and Social Psychology, [online] 121(4), pp.933–947. Available at: https://doi.org/10.1037/pspp0000391 [Accessed 18 Sep. 2023].