A Guide To Cutting Boards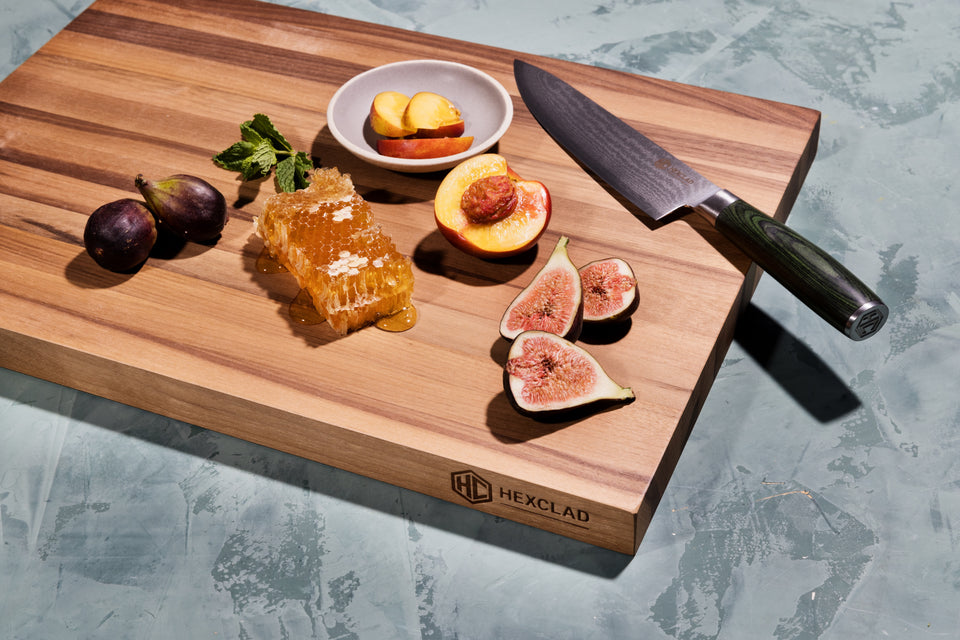 A great knife is only as good as the surface it cuts on, which is why getting the right cutting boards for your kitchen is essential. Though you can make do with just one cutting board, a well-stocked kitchen has a few different cutting boards for different jobs.
A high-quality wood cutting board
If you're going to invest in only one cutting board, a large, wood cutting board is a great pick for your daily chopping and slicing, food prep, and even for assembling and serving a charcuterie platter. Though both plastic and wood are gentle on knives, wood boasts natural antimicrobial properties that can help inhibit the growth of pathogenic bacteria and fungi. HexClad's large wood cutting boards are made from walnut, a durable wood that means your cutting board can stand up to lots and lots of chopping.
Look for a large cutting board that is at around 14 by 20 inches (35 by 50 cm) so you have room for the ingredients to spread out as you chop. A medium cutting board is great for smaller prep jobs. HexClad's medium cutting board is 12 inches by 16 inches (30 by 40 cm), which is ideal for smaller jobs or assembling a cheese platter. If you cook regularly with meat or fish, it can be worth investing in a plastic cutting board that can fit in your dishwasher.
Small cutting boards for small jobs
Dirtying a large cutting board just to slice one lemon can feel like a hassle, leading to hasty decisions like slicing a knife on a ceramic plate or countertop, which damages the edges of knives. Pick up one or two small cutting boards that encourage off-the-cuff use. It can be helpful to buy one small cutting board (about 6 inches/15 cm) for the very small jobs (a single tomato or apple, for instance) and a slightly larger one (8 to 10 inches/20 to 25 cm) that can accommodate two slices of bread for a sandwich or a small herb-chopping job. If you have a dishwasher, it can be handy to buy your small cutting boards in plastic.
An extra large wooden cutting board for big jobs
Sometimes, a regular cutting board just doesn't do the trick. When you're chopping huge piles of onions or setting about carving a whole roast what you need is space. An extra large board is particularly useful for kitchen newbies that can benefit from room to move or push ingredients about. Choose an extra large cutting board for your pastry tasks, too, like kneading dough, rolling out pie crust, or cutting out cookie dough. At a pinch, a large cutting board can be placed over your stove top (as long as the burners are turned off) to increase kitchen storage. HexClad's extra large cutting board is made from beechwood, a hardwood that's known for its durability and ability to withstand heavy use.
A carving board
It might seem like a specialty item, but a carving board is worth its salt. Large enough to handle big roasts (even the most rotund Thanksgiving turkey) a great cutting board has grooves to collect juices. When it comes to HexClad's two-sided carving board, there are hexagons that grip onto big pieces of meat, keeping them from sliding or tilting while you're wielding a carving knife and carving fork. HexClad's cutting board is double-sided, with a flat side that can be used for chopping.
How to take care of your wooden cutting boards
Some kitchen items have a funny reputation for not needing to be cleaned. You might have encountered die-hard cast iron enthusiasts who swear they never wash their pans. Then there are the people who simply wipe off their wooden cutting board with a sponge and call it a day. We're here to tell you that it is absolutely important to clean your cutting boards after every use.
Before the first time you use your cutting board, saturate it with food-grade mineral oil, which will protect it from absorbing juices or aromas from your food. Rub all over with the oil, then prop it up on a clean dish towel (that you don't mind getting oily) or a pot lid holder. Let sit overnight. You can repeat this process anytime the wood seems to become porous or has an unpleasant smell.
Here's how to clean and maintain your wooden cutting boards:
Scrape off any remaining food from the surface. (A plastic bench scraper is a handy tool for this, and you can stick it in the dishwasher after a cleaning session.)

Wash the surface with warm water and a gentle soap. Do not submerge the board in water or put it into the dishwasher.

Towel-dry the board, then prop up on a dish rack or leaning against a wall to fully dry.

If the board has lost luster, oil it with food-grade mineral oil.

If the board has an unpleasant scent, sprinkle the cutting board with a coarse salt, such as kosher salt. Scrub the cut-side of a lemon half over the surface, squeezing it as you work to release the juice. Let sit 5 minutes, then scrape away the liquid. Rinse and dry per above instructions.