Hard-Anodized vs. Stainless Steel Pans: The Pros & Cons
by HexClad Cookware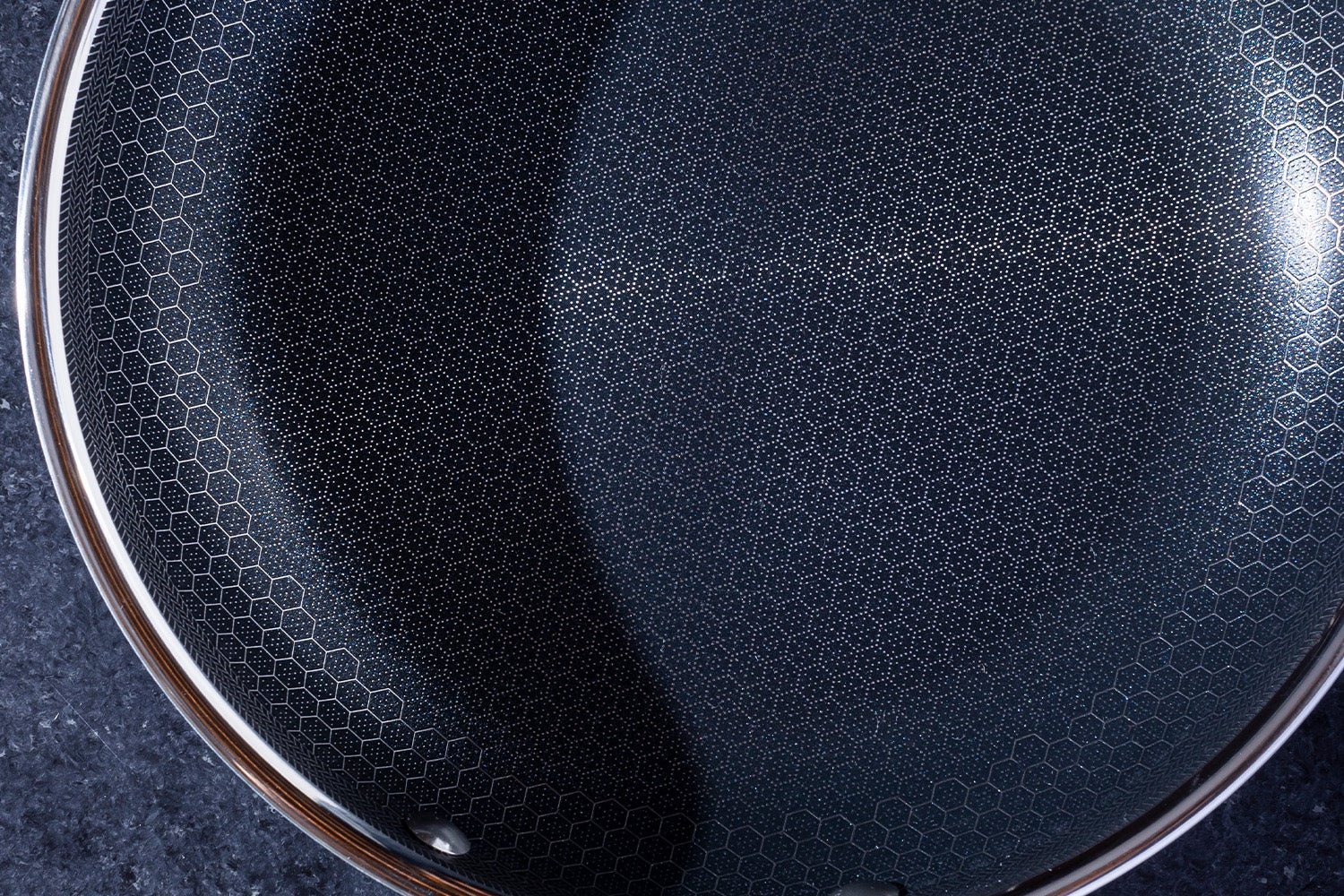 Choosing the right pan isn't easy. There are so many options and points to consider. How do I get the most for my money? What kind of high temperatures can my cookware handle? How long will my pan last? And most importantly, how hard is it to clean?
Are you debating between stainless steel and hard-anodized cookware? We are battling these two styles of cookware today, and only one cookware material will come out on top. 
It's a cookware battle royale, and you're invited. Quirky usernames are not required.
What Is Stainless Steel?
As a working definition, separate from cookware, stainless steel is a strong and durable metal with the advantage of being highly resistant to rusting and corrosion. You know what we mean if you've seen the discoloration of other materials, like cast iron cookware.
Stainless steel is an alloy composed of iron, chromium, nickel, and a smaller percentage of other metals. The metal alloy must contain at least 10.5% chromium with less than 1.2% carbon and other alloys to be considered stainless steel.
It's no wonder stainless steel cookware sets are so popular. Stainless steel has a lot of advantages when it comes to strength, versatility, and durability. This metal is made to stand the test of time. It doesn't play around. 
What Is Hard-Anodized Aluminum?
To be considered hard-anodized, aluminum must undergo an electrochemical process that will change the surface of the metal. In this case, the anodizing process will alter the cookware's cooking surface to make it more durable, scratch resistant, and non-stick. 
Compared to traditional aluminum cookware, hard-anodized aluminum cookware is less likely to corrode or become degraded from rust. 
Which Pan Is Better? The Pros and Cons
We all want the same simple things from our cookware. It's got to be worth it, right? We look for good heat conductivity, corrosion-resistant pots and pans, and something that looks good while doing it all. Like the optimists we are, we believe you can have it all. 
These pans seem to be a good match, but it's time to put their cooking prowess to the test. We will go full-on head-to-head in some of the most important aspects of what makes good cookware, well, good — and totally worth it. 
Which Pan Conducts Heat Better?
How your pan conducts heat will significantly affect the cooking performance and technique you'll be able to execute in your kitchen. 
When it comes to these two types of cookware, stainless steel is the better heat conductor. Stainless steel cookware heats up faster and more evenly. Due to the chemical coating process on the cooking surface, hard-anodized aluminum takes longer to heat. 
Another large disadvantage to hard-anodized aluminum is its incompatibility with induction cooking stovetops. With stainless steel, you can cook on any type of range. With hard-anodized aluminum, there isn't enough of a magnetic exterior to use an induction surface. 
Which Pan Is More Durable?
Stainless steel cookware is one of the most durable and strongest metals to have as an exterior surface for your cookware. It is resistant to corrosion and rusting and will stand up to the amount of wear and tear you can expect any home cook to put into it. 
Hard-anodized aluminum is also pretty strong. It is chemically processed to be less likely to corrode and rust. It's also non-reactive, like stainless steel, so acidic foods won't cause pans to react with the pH of the food and leach metals into your meal. 
Stainless steel comes out on top here, however, as hard-anodized aluminum will likely need replacement within two to five years after the purchase date. Well-made stainless steel cookware from a reputable brand will last a lifetime. 
In fact, we are so sure that you'll never have to buy new pans again; we guarantee lifetime usage (more on that later). 
Which Pan Has a Better Non-Stick Surface?
Both hard-anodized aluminum and stainless steel cookware will feature a non-stick surface. With hard-anodized pans, a non-stick coating will need to be applied to the cooking surface to ensure the pan is non-stick.
The biggest nuisance for a stainless steel pan is the seasoning aspect. A quick process in the kitchen when you first get your pan will produce a product that cooks as long as you do. It's a small price to pay for a pan that will last a lifetime, right? 
While the non-stick surface of hard-anodized aluminum isn't dangerous, it will chip away or reduce its non-stick quality over time. These pans only last up to five years, and by year five, your omelets probably won't be sliding out of the pan with ease. 
With a properly seasoned stainless steel panOnce you season a stainless steel pan, you won't have to worry about your food sticking to the surface again. In addition to this, our peaks and valleys technology will produce the most ideal cooking surface you could ever want … and not just for five years but for many many years, as the coating won't chip off.
Which Pan Is Easier To Hand-Clean?
Thanks to a non-stick surface, both pans are relatively easy to clean. Because food should leave the pan with ease, cleaning shouldn't be an all-nighter. However, hard-anodized aluminum does require a bit more elbow grease to keep it looking shiny and new. 
You'll need to use a cleaner made for hard-anodized aluminum to maintain the cookware's integrity. Warm to hot soapy water should keep your pans in good enough condition to use again, but the luster and shine of your pans will dull and require more than a spit shine. 
Stainless steel once again edges out the competition. With a seasoned pan, you won't need to worry about polishing your stainless steel constantly to keep your pans looking new. You'll only need warm soapy water to get your pans clean and ready to go for the next meal. 
Both pans will require a baking soda soak with water and vinegar for stubborn stains or burnt food that is holding onto the pan, but with stainless steel, you don't need to be so gentle.
Which Pan Is Dishwasher-Safe?
Stainless steel is the clear winner in this department. Why? Hard-anodized aluminum cannot be loaded into the dishwasher. It's really that simple. Stainless steel wins by default. 
The important thing here is that stainless steel is so strong that you can load it straight into the dishwasher after a deliciously executed meal. This is an important factor when you're a home chef. 
There's nothing better than throwing all your dirty pots, pans, and utensils in the dishwasher after a big night of cooking in the kitchen and letting modern technology do the work for you. 
With hard-anodized aluminum, you'll be standing at the sink for who knows how long, hand-washing every pot and pan you used to make dinner. There's nothing worse than cooking a lovely meal only to get pruney fingers afterward trying to clean up. 
Which Pan Is the Better Bang for Your Buck?
When you buy new pans, you aren't necessarily thinking of how many meals you can cook before it's time to throw them away and start fresh. But depending on the type of pan and the brand, this might be closer to reality than you realize. 
Getting the best bang for your buck is key. You need to know that your money was well spent and that whatever you used it on will last as long as you need. 
With pans, you need to know that if you spend the money on those brands that promise quality, they're actually delivering on that promise. So, which will give you a better deal for your wallet? Stainless steel takes the cake yet again. 
Stainless steel pans might cost a little more upfront, but they will literally last a lifetime. A reputable brand creates cookware that you will never have to replace again.
On the other hand, hard-anodized aluminum can still get pretty costly but will only last up to five years. Even if you spend near the same amount as it costs for stainless steel, you won't get as much use out of the cookware. 
What Makes Stainless Steel the Winner?
Stainless steel gave hard-anodized the 1-2 punch and kept them down for the count. At the end of the day, it performs better than hard-anodized aluminum. The proof is in the pudding and the gorgeous fish fillet you made. 
HexClad's Take on Stainless Steel
Stainless steel is an obvious "win" over other hard znodized and the typical stainless steel cookware. Stainless steel on its own isn't perfect. That's why HexClad uses a triple-clad technology to give you the ultimate cooking surface. 
Here are a few reasons why HexClad's hybrid stainless steel cookware gets dinner done.
Better Temperature Control
Our hybrid pans get the best temperature control, are oven safe, and can handle high heat up to 500F. How? The triple-clad technology lets us get the most out of our cooking surface. The outer layers are stainless steel, giving you the strongest and most durable exterior possible. 
You'll get the most perfectly seared steaks and sauteed veggies. Let's see what's going on inside this cookware.
The inner and middle layer is composed of aluminum, so it will heat up quickly and evenly. Our pan will retain heat and distribute it properly. You won't have to worry about a slow heat-up process or cold and hot spots (like you would with a clunky cast iron skillet). 
Safe To Use With Metal Utensils
A lot of non-stick pans say they're strong. But the difference with HexClad is that our pans are among the strongest. While any material, even a diamond, can become scratched, our pans are scratch-resistant. 
You can use metal utensils without worrying about leaving scratches behind. In other pans, you have to use rubber or plastic utensils to maintain the integrity of the frying pan. But we thought ahead. 
Backed by a Lifetime Warranty
A well-seasoned stainless steel pan should stand the test of time. If you bought our hybrid pots and pans, that's just what you'll get. 
A lifetime warranty will protect you from wear and tear on your pots and pans that are unusual to the design. If they're cared for and used properly but rust or degrade due to corrosion, we will replace the pan for free. 
Stainless Steel: Pans You Can Count On
We knew stainless steel was the better option, of course, and now you do too. Let's all agree that HexClad makes some of the best cookware out there. High-fives all-around.
These pots and pans are made to stand the test of time. Crush every meal you can think of and gain all the praise for your culinary prowess. Never be afraid of trying a new technique or experimenting with ingredients again, not with HexClad in your corner.
Sources:
Here's how to choose the best stainless steel cookware | SouthernKitchen
Thermal Properties of Metals | CenturyLife